Two Gods of a Darker Sort
By Jaime L. Elliott
---
(Excerpt from the novel Harvest Moon by Jaime L. Elliot)
Stumbling a bit, Eucheron approached the opening. The others followed. Ducking his head, he found himself in total darkness. The floor seemed to descend. He cautiously took a dozen steps. Reaching his hand out, he found himself in some sort of tunnel. He felt other bodies jostle around him. Xan mumbled something and the tip of his staff glowed brilliant.
The light blinded them briefly. As their eyes adjusted, they noticed that the tunnel seemed to go on for quite a distance. "Do we go further?" queried Kestin not bothering to hide the terror from his voice.
Eucheron mulled it over, "I think we should head back."
"Well, as much as I dislike this stinky hole in the earth, there are fucking thrips out there," said Pilana, crossing her arms. "I say we stay here."
"Arzo like. Very comfy," said the foreigner, scratching at a flea nibbling at the back of his knee.
Xan added angrily, "Iím not leaving Keplu regardless. Letís go on."
Eucheron glowered at the mage. Through gritted teeth, "Fine. By Zost, letís head into the depths of someplace that could lead us to certain death. You first. Itís your damn lackey weíre following." He made an exaggerated show of motioning Xan forward. The mage huffed a bit and drew up his robe around him. Defiantly, he strode forth. He tripped a bit, ruining the effect.
They all followed Xanís lit staff. After what seemed a very long time, the passage leveled out. They then found themselves in a large cavern. On the other side, they saw the massive form of Keplu standing before a great stonewall, covered with glowing writing, the words written in a language that none of them had seen before. The writing even perplexed Xan.
A sudden dread overcame them all. With timid steps, they approached the wall and Keplu. As they glanced around, they noticed pillars at various points in the cavern, apparently for support. The ceiling reached beyond their vision into the darkness, rising high above the effects of the light. Also in the great cavern stood dozens of statues of warriors in various poses, dressed in garbs quite alien to them.
"Keplu," growled Xan in an uncharacteristically choking voice. "Keplu," he repeated, "come hither."
The giant did not seem to be aware of their presence. He stared intently upon the wall.
Unexpected, a voice made its presence known. They did not actually hear the voice, rather, felt it as a reverberation within their spines.
RELEASE ME, it said.
Kestin fell to his knees in a whimper. Pittre and Pilana drew their weapons and scanned wildly about. Eucheron felt his insides churn with terror.
RELEASE ME, it repeated.
"Whoówho are you?" stuttered Xan, his eyes also opened wide with fear.
I AM DHEKADRAMEN, it intoned. I AM TO BE YOUR LORD AND MASTER. I AM POWER BEYOND POWER. I AM THE GOD OF YESTERDAY AND TOMORROW, THE GOVERNER OF DECAY, THE KEEPER OF PESTILENCE. RELEASE ME, AND I WILL MAKE YOU KINGS AMONG MEN.
"Letís get out of here!" screamed Eucheron. He looked around in his panic, unsure which way led out. The statues seem to glare at him with evil intent.
USE THE AXE OF SUNDER. DESTROY THE WALL OF CONFINEMENT. RELEASE ME, AND YOU WILL NEVER KNOW DEATH.
"Axe?" grated Xan. "What axe?"
Keplu walked in front of one of the statues, apparently a king of some sort. It held a scepter in its right hand. In the left, the hand gripped a great double-bladed axe.
SPEAK THE WORDS. RELEASE THE AXE TO RELEASE ME.
"No Xan!" commanded Eucheron. He took a step forward but stopped when Keplu turned to face him.
Xan looked at his henchmen and at Eucheron. Almost softly, Xan said, "Keplu, letís go. Do not disobey me."
Keplu did not heed his master. After a brief pause, Xan savagely struck the giant across the face.
The slap echoed in the cavern. Pilana muttered, "Thatís one dead whoreson."
Keplu quaked and shivered. His hands trembling fiercely, the giant gazed down at the mage. Xan stared back unflinching. Then, as if relieved of a great pressure, the giantís shoulders slumped. Xan turned to leave and Keplu followed.
Eucheron let himself breathe again. Trying to control his own quivering, he said, "By Zost, letís get out of here. Pilana, is everyoneó"
DEATH, intoned the voice. FINALITY TO THOSE WHO WOULD NOT SPEAK THE WORDS.
"Run!" yelled Eucheron, Kestin again a blur bolting past him.
Arzo turned to sprint when he felt a strand of something sticky snag him in the shoulder. He felt himself pulled into the air and his body slapped hard against the wall, the makeshift furs he wore twisted about him. Glancing upward, he saw an alcove and in that hidden area loomed a creature part bloated spider, part desiccated humanoid, a face of mummified death with bright, coppery eyes. It possessed lobster claws for hands. Its skin appeared black as the heart of an eclipse, from the top of its corpse-like head to the tip of its spidery legs. He vaguely heard the others shouting as well, as in different alcoves more of these creatures attacked. He had dropped his spear when struck. He found himself rising quite rapidly. Knowing his chance for life quickly vanishing, Arzo did a drastic thing. He gathered the Twilight within him. He felt the coldness as the darkness became a hard lump in his chest. He focused, readied to unleash it. He would meet death with something from the land of death.
A fireball from Xan flew over his head and hit the strand pulling him up. It caught fire, causing the monster to pull back. Arzo, startled, felt the Twilight vanish. He had made up his mind to curse his luck when the strand broke. He changed that to bless his good fortune when he realized he fell from a great height. Unfortunately, he did not have time to revert back to cursing. He became vaguely aware of the chaos as his companions fought for their lives. He landed quite hard upon the stone floor. Then he did not feel or hear anything.
* * * * *
Arzo found himself again in the land of Twilight. However, it seemed different this time, much more substantial. He stood in a large, open area. Haze and fog shrouded the distance. Something inside him told him to look up. He barely dodged a large boulder twice his height in diameter as it crashed at the point of where he once stood.
I AM THE ROCK OF DEATH, it intoned in a commanding voice. It spoke in his tribal tongue.
Arzo picked himself off the ground. Cautiously, he walked around the boulder. He recognized this slab of stone as one of the gods of his people, the Rock of Death. When you died, it landed on you to crush you into the afterlife. He had not been very fond of the thought of a rock smashing him like a bug. In fact, he held a certain apprehension of anything large and consisting of stone because of that.
Two gods, one right after the other, mused Arzo. He conversed in his native language. Although not used in quite a while, the words issued fluently from his lips, unlike his stumbling attempt at Gordian. "You are the Rock of Death?" he asked.
I AM THE ROCK OF DEATH, it confirmed. I AM HERE TO CRUSH YOUR BODY SO YOUR SOUL MAY BE RELEASED INTO THE TWILIGHT.
Arzo continued to mull over the god. "Are you sure youíre the Rock of Death?"
I AM THE ROCK OF DEATH, it repeated.
The little man pondered some more. "Are you really sure youíre the Rock of Death?"
I AM THE ROCK OF DEATH. A pause. WHY DO YOU KEEP ASKING ME THAT?
"I donít know," said Arzo. "I just expected more. You know, a glowing Rock of Death. A great, flaming Rock of Death! Or a skull-shaped Rock of Death. Or diamonds and emeralds set within Rock of Death. But youíre just a plain old Rock of Death. Youíre not even a very big Rock of Death."
A noticeable pause. I AM THE ROCK OF DEATH.
"Yes, well I donít doubt you. Iím sure you are a Rock of Death. But are you sure that youíre the Rock of Death?"
I AM THE ROCK OF DEATH. I HAVE COME TO CRUSH YOUó
"This conversation doesnít to be going anywhere," interrupted Arzo. "Can you prove that youíre the Rock of Death?"í
A very pregnant pause as the rock formulated a response. I WILL CRUSH YOU. THAT WILL PROVE THAT I AM THE ROCK OF DEATH.
"But you missed," pointed out Arzo, "so that doesnít prove anything."
LIE DOWN AND WELCOME THE ROCK OF DEATH. I WILL CRUSH YOU INTO THE TWILIGHT.
"Let me understand this. You want me to lay down so you can just roll over me? Are you sure youíre a god?"
I AM THE ROCK OF DEATH. I AM YOUR GOD.
"What if I run really hard into you and crack my skull? Would that be sufficient? Hey! Since I did that myself, would that make me a Rock of Death? No, probably not, since Iím not made of rock. But what about a different kind of death? I am the Arzo of Death! No, sounds like Iím a rock. How about, I am Arzo! I am Death!"
THERE IS ONLY ONE GOD OF DEATH.
"What about Skurv? The one the cold-landers worship?"
THATíSÖ DIFFERENT. OF YOUR PEOPLE, I AM THE ONLY GOD OF DEATH.
"Well, I think Iíve discovered the problem. You see Iím no longer with my people. I left them long ago. I donít even worship their gods. Fine, so I do curse their names every now and then. But I have never sworn in your name. I mean, it sounds rather odd to yell out ĎRock of Death!í Doesnít have the same feeling like ĎBy Zostí or ĎTo Skurví."
I AM THE ROCK OF DEATH. Arzo heard a hint of desperation to its intonation.
Arzo shrugged and patted the rock fondly. "And what a nice Rock of Death you are. Oh well, time to head back. Which way is back?"
YOU CANNOT LEAVE. I HAVE NOT CRUSHED YOU YET.
"Fine, hereís a simple question for you."
A pause. YES.
"What if I say no."
Another pause. YOU CANNOT SAY NO.
"No."
IT DOES NOT MATTER IF YOU SAY NO.
"If I donít lie down, will you be able to crush me?"
A very long pause. NO.
"Goodbye then." Arzo chose a random direction and began walking.
In the distance, he heard the rock. NO ONE HAS EVER DENIED THE ROCK OF DEATH. I AM YOUR GOD. Arzo kept walking. I AM THE ROCK OF DEATH. I MUST CRUSH YOU. After a long while, Arzo heard the god one final time. IT DOESNíT MATTER ANYWAY. YOUíVE ALREADY SEALED YOUR FATE.
Arzo turned around, "What do you mean?"
At that moment, life took him back.
The End
---
Copyright © 2004 by Jaime L. Elliot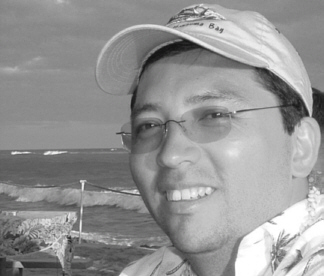 Jaimie Elliott currently resides in Marietta, Georgia, where he spends too much of his time working as a project manager for IBM. His first love is fantasy, although he writes poetry and literary fiction as well. He recently won first prize in the short fiction category in the Georgia Writers Association yearly contest, which was published in the GWA anthology. He has been published on Aphelion once before and has an upcoming story for Sword's Edge e-zine scheduled early next year.
E-mail: jaimie_e@bellsouth.net
---
Visit Aphelion's Lettercolumn and voice your opinion of this story.
Return to the Aphelion main page.