Thou Art the Crown of Thorns
by Alexis Child
---
And the voice speaks. Suppose no one recognizes me? The candle remembers. At the edge of night it burns and
cherishes the flame. Who will see me? My life disappears. I rise up with you and you persist like the Word of judgment.
The voice speaks again. I am fear without the hour. It is you who know me. Take me without the night. The lake is
frozen over in blood. To swim across it is dangerous. The birds hurry in flight cemented by bodies. The wind is chill
above me still. I am the wish without the consolation. This is the new earth.

---
© 2020 Alexis Child. All rites reserved until the worms crawl in…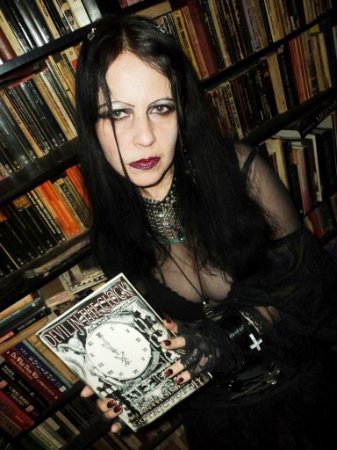 Alexis Child hails from Toronto, Canada; horror in its purest form: A calculated crime both against the aspirations of the soul and affections of the heart. She worked at a Call Crisis Centre befriending demons of the mind that roam freely amongst her writings. She lived with a Calico-cat child sleuthing all that went bump in the night and is haunted by the memory of her cat.
She is currently signed to Nostilevo Records.
Her fiction has been featured in The House of Pain, Lost Souls, Screams of Terror, Sinistercity, SpecFicWorld.com, The Official Nephilim Site, and U.K.'s Dark Of Night Magazine. Her poetry has been featured in numerous online and print publications, including Black Petals, Blood Moon Rising, Estronomicon eZine, Eternal Haunted Summer, Death Head Grin, Midnight Lullabies Anthology, Sein und Werden, The Horror Zine, and elsewhere.
Visit her website: http://www.angelfire.com/poetry/alexischild/
Please also visit Alexis' YouTube Page for visceral spoken word poetry performances: https://www.youtube.com/channel/UCg6S5u4yX73kA1ZWGnKaEBA/videos
Find more by Alexis Child in the Author Index.
Comment on this story in the Aphelion Forum
Return to Aphelion's Index page.