Night Visitations: Les Incubes
by Alexis Child
---
The hunter raids dens
Collecting nocturnal emissions
From skins of willing prey
In the gathering darkness
Shapes himself a body with horns
Thrust upwards in defiance of heaven
Endowed with motion and icy seed
Rouses sleeping females
Excited as an awakening city
Riding among the leaders in charge
Restless and bored is the devil these days
The physician suggests trickery
Chimera, the invention
Of hysterical women
Prone to perverted imaginations
The church is concerned
About the nature of women
What incubi inject
Into witches' wombs
Little, to no concern about nuns
Devoted to the expression of gratitude
I shan't deny giving in.
Devils need direct encouragement.

---
© 2017 Alexis Child. All rites reserved until the worms crawl in…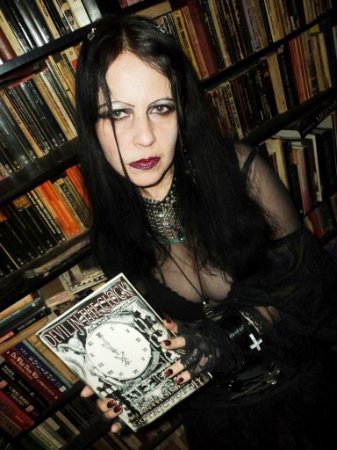 Alexis Child hails from Toronto, Canada; horror in its purest form: a calculated crime both against the aspirations of the soul and affections of the heart. She worked at a Call Crisis Centre, befriending demons of the mind that roam freely amongst her writings, and lived with a Calico-cat child sleuthing all that went bump in the night. She is haunted by the memory of her cat. She has had some measure of underground success with her three dark wave and gothic bands.
Her fiction has been featured in Aphelion Webzine, Screams of Terror, SpecFicWorld.com, The Official Fields of the Nephilim Site, SinisterCity, and U.K.'s Dark Of Night Magazine. Her poetry has been featured in numerous online and print publications, including Black Petals, Blood Moon Rising, Death Head Grin, Midnight Lullabies Anthology, Sein und Werden, and The Horror Zine and elsewhere.
Her first collection of poetry, Devil in the Clock, a dark and sinister slice of macabre horror, gothic, surreal & supernatural poetry is now available on Amazon.
Visit her website: http://www.angelfire.com/poetry/alexischild/
Find more by Alexis Child in the Author Index.
Comment on this story in the Aphelion Forum
Return to Aphelion's Index page.