Bluebell Spell
by Richard H. Fay
---
Walk amidst the nodding heads
In a secret bluebell glade.
Wander through an ancient realm
Where beings of twilight reign.
Linger beneath oak's spring crown,
Become entranced by the shade.

Spy a throng of merry sprites
Dancing a wild timeless jig.
Reel about with little folk,
Join their endless revelries.
Drain a draught of heady drink,
Become enthralled by the fay.

Hear bluebells toll a dire knell
As earthly cares drift away.
Lose yourself in blissful dreams,
Forget your troubles and fears.
Lie amongst the deadmen's blooms,
Become ensnared by their spell.

Sleep, spellbound mortal.
Sleep eternally.

(Originally published in parABnormal Digest, Issue 4, September 2012.)

---
© 2012 Richard H. Fay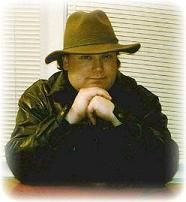 Richard H. Fay currently resides in upstate New York with his wife and two cats. Formerly a laboratory-technician-turned-home-educator, Richard now spends his days juggling numerous art and writing projects. History, myth, folklore, and legend serve as inspiration for his creative endeavours. Many of the fruits of his labour have appeared in various e-zines, print magazines, and anthologies.
Find more by Richard in the Author Index
Comment on this story in the Aphelion Forum
Return to Aphelion's Index page.