Tipsy Rambler
Richard H. Fay
---
Tipsy rambler roams
Darkened moorland.
Tricksy goblins shift
Moonlit landmarks.
Befuddled soul trips
D
o
w
n
Rocky brae.
Invisible imps
Laugh.

---
© 2014 Richard H. Fay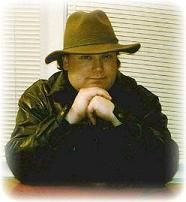 Richard H. Fay currently resides in upstate New York with his wife and two cats. Formerly a laboratory-technician-turned-home-educator, Richard now spends his days juggling numerous art and writing projects. History, myth, folklore, and legend serve as inspiration for his creative endeavours. Many of the fruits of his labour have appeared in various e-zines, print magazines, and anthologies.
Find more by Richard in the Author Index
Comment on this story in the Aphelion Forum
Return to Aphelion's Index page.