Little Bastard
by Kristine Ong Muslim
---
He is born today
Just as the doctor predicted
With uncanny accuracy.

His limbs are frail, skin
Pinkish, delicate, and smooth
Like any newborn
With a full lifetime ahead of him.

He croons once in a while
When he is not asleep.
But I cannot afford to nurse him,
Give him his nourishment,
The little bastard
Has the face of a skull.

---
© 2004 Kristine Ong Muslim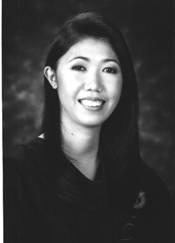 Kristine Ong Muslim is twenty-three years old and has published works in 3 A.M. Magazine, Dark Moon Rising, The Dream Zone, Kota Press Poetry Journal, and the Dust Devil anthology. Some of her works will also be included in future issues of Nostalgia, Lost in the Dark, and Dark Angel Rising. Another version of her majors in Chemical Engineering during the daytime.
Find more by Kristine Ong Muslim in the Author Index.
Comment on this story in the Aphelion Forum
Return to Aphelion's Index page.