February Short Stories
The Machines at Ellison
By Glenn M. Diamond
When the world ended, they found safety; now it was time to leave that safety.

Customer Service
By Annie Percik
Sometimes being a lowly customer service rep had its perks.

Scraps
By Thomas A. Mays
Eva's parents made her a robot dog, like that's going to make up for everyone abandoning her.

Just a Matter of Time
By Karen Heslop
A famous scientist brings his wife back to life, and changes the course of humanity.

Tenfold
By George T. Philibin
When humans decide to build a colony on Mars, they find more than they expected.

Downsized
By Matthew Harrison
Tanya just wants to make sure employees at the company are happy, even when they're let go.

Amidst the Heavens
By Carmenn Alexander King Kocznur
He has one goal: to save his people; but the madness may kill him first.

Ethiralz
***A Mare Inebrium Tale***
By Sergio Palumbo
When vigilante justice comes to the Mare Inebrium, it doesn't go well for anyone involved...

Best Short Stories from Our First Twenty Years
Best Shorts 1997-1998

Best of 1997:
The Devil They Knew
By Frederick Rustam
When a stranger arrives, a family fears the worst.
Copilot
By Thomas Allen Mays
Liam spends his time memorizing his Copilot's instructions.
The Mist Leaves Scars
By W. Fraser Sandercombe
Malcolm didn't mind his neighbors at first, but enough is enough.

Best of 1998:
Vinnie's Cargo
By Kate Thornton
It was supposed to be an easy run, but then Vinnie decided to smuggle a dragon's egg.
Case of the Lost Dog
By Andrew and Ilona Gordon
What would you do to avoid the dogs of hell?
Becoming Estavan
By McCamy Taylor
In the process of catching a serial killer, Estavan learns the truth.
Wait, there's more!
Congratulations to Tyra Tanner. Her story below took a Top Ten Award for Best Science Fiction & Fantasy Short Story at the Predator & Editor's 2016 Reader's Poll, which marked the third straight year an Aphelion-published short story achieved this honor.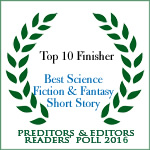 The Voice Catcher
By Tyra Tanner


Don't listen to the trees, Pumpkin.