Sunshine Patriots
A Review of Bill Campbell's new novel
Review by Dan L. Hollifield
---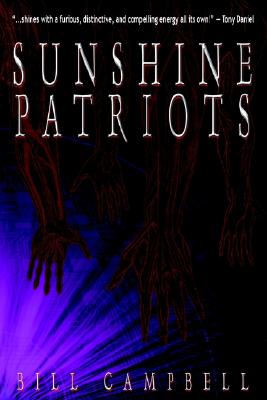 Type of music/work:
Science Fiction Novel


ISBN: 1587362848
Publisher: Hats Off Books
Price: $17.95

Musicians/Performers/Author(s):
Bill Campbell
Cover Art by ??
Booksamillion.com Where you can order the novel.

Amazon.com Where you can order the novel.

The official website for the book. There is background info, a synopsis, and an excerpt.


General impressions of the novel:


A hard-edged thriller, tightly woven, kept me on the edge of my seat. Specifics:

A real page-turner, and very thought provoking besides. I didn't want to put this one down. Every scene played out before me like a movie. This was a very good book. The characters were well developed and three dimentional. I got into them right off. The setting was also very well developed. I could almost smell the alien colony while I was reading. Good work. Bill Campbell is a name to watch. I predict more good books from him in the future.
I thought the sections dealing with the colonists to be exceptionally good. Their society contrasted nicely against the military and the political situation. That's a tricky mix of plot elements to work with, but Mr. Campbell has crafted a very fine story here. He's brought a whole new world to life. I was also impressed with the language structure in the dialogue of the various characters. That's a technical point, I know, but Bill did an amazing job with it and I thought that it deserves mention. Not only is it a good story, but a lot of work went into getting the characters just right. Even the first time I read it, I was impressed with the skill as well as the tale itself. All the elements of the story were woven together with high skill. Thank you, Bill. This was a very enjoyable read! Background info:

I quote here from the Bio on the website:

Bill Campbell is a native Pittsburgher, Northwestern alumnus, and (like Toni Morrison) a "disaffected Catholic" (the only comparison he'll ever get to her). This vagabond millenarian has done everything from assembling Christmas toys in Cleveland, loading trucks, bookkeeping, and being an AmeriCorps volunteer in Atlanta, coordinating an elementary school literacy program in D.C., and teaching English as a second language in the Czech Republic. Homelessness has been a hobby that he eventually had to give up. He's also the former publisher of the zine, Contraband, and the music trade magazine, CD Revolutions. Now, Bill lives in our (powerless) nation's capitol, where he's a music critic for www.ink19.com, an internet DJ at www.live365.com, and works for a company that produces books for the blind for the Library of Congress.
---
Review Copyright 2004 by Dan L. Hollifield




Aphelion Letter Column A place for your opinions.

Return to the Aphelion main page.