The Evil Side of Lanaia Lee
Enter If You Dare
A Review of Lanaia Lee's new book of Poetry
Review by Dan L. Hollifield
---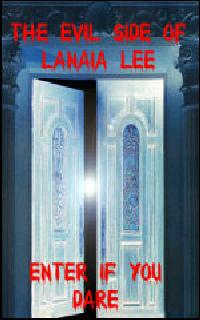 Type of music/work:
Collected Poems


ISBN: unknown
Price: $10.57 - Paperback, $5.00 - E-Book

Musicians/Performers/Author(s):
Original Poetry by Lanaia Lee
Cover Art by ??
Lanaia's page on the Screams of Terror website


General impressions of the novel:


Thoughtful, evocative, and sometimes downright spooky! This book is a "must have" for fans of Psychological Horror/Dark Poetry. Specifics:

I've been called upon to review some pretty strange books in my time, so I was pleasantly surprised to find Lanaia's poetry calling me back to the book time and time again. She has mastered the art of setting mood and metaphor into verse. At times the poems are disturbing in their ability to evoke moods and images in the reader's mind. I'm not that much of a horror fan, but this book reaches out and grabs the reader. One cannot read thes poems and remain unaffected.
At times painting a vivid picture in the readers mind, at times subtly causing the reader to shiver in delightful terror, this is a wonderful collection of Lanaia's work. Each poem has something to offer the reader. Very good work! We should be hearing a lot more about Lanaia Lee in the future. Background info:

I quote here from the Bio on the Screams of Terror Publishing website:

"Lanaia Lee is a 46-year-old stroke survivor that suffered a stroke at 35 due to high blood pressure. Her disease is called erratic hypertension. Ever since the stroke Lanaia has been in a wheelchair but she hasnít let that stop her one bit! In Lanaiís own words "I still rock and roll, and I mean literally roll!" Lanaia has also lost six children due to her problem with blood pressure, leaving her with no living children, except for her 3 year old Jack Russell Terrier. He is her baby and constant companion. She has been married to a wonderful husband for ten years, who is also in a wheelchair, but they live totally independently and on their own. Although according to Lanaia "this factor does make life interesting! But we face each challenge with the help of God" Her grandmother, a self-professed black witch, raised Lanaia after her mother died when she was eight years old. So why does Lanaia write such dark poetry? In Lanaia's words " I guess being raised with the occult and supernatural explains why I have such a knack for dark poetry. Writing is one of the few things I can do that relaxes me. I will probably write for as long as I live because this is something that I really love to do. God gave me this literary gift, so why not use it?"
---
Review Copyright 2004 by Dan L. Hollifield




Aphelion Letter Column A place for your opinions.

Return to the Aphelion main page.