Clovenstone
By Ruth McIntyre-Williams
Review by Dan L. Hollifield
---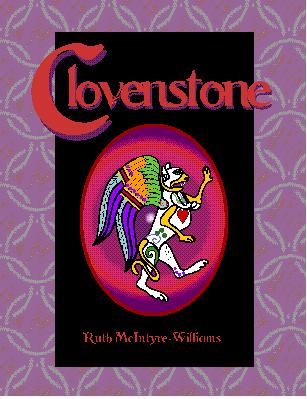 Type of music/work: Celtic Medieval Fantasy Novel
Musicians/Performers/Author(s):
Ruth McIntyre-Williams
General impressions of the album/book:
This is a wonderful fantasy quest story. The tale flows from adventure to adventure and the characterizations never fail to please. The reader quickly becomes caught up in the trials and tribulations of the characters.
Specifics:

This story weaves several differing threads into a glowing tapestry of adventure as the reader follows each set of companions on their quest to find and re-awaken the almost-mythical Clovenstone. The world the characters live in seems as real as our own and each character is fully fleshed and as familiar as life- interacting as would people you might know. The Celtic elements of the story only add to its allure. It only took me a very few pages to become hooked and I hated each time I had to stop reading. Ruth has written a novel she can be very proud of that will delight any fan of fantasy tales.
The story flows from page one and sweeps the reader along in adventure after adventure of the several characters. As the point of view passes from one to another, Ruth succeeds in heightening the suspense as well as painting a beautiful portrait of the backdrop as a world fully as believable as any in classic fantasy.
I believe that we will be seeing more good work from Ruth McIntyre-Williams and I look forward to that eagerly.

Background info:


Clovenstone Celtic Medieval Novel http://www.clovenstone.com >>>>>>> autobiography of the author Clovenstone Celtic Medieval Fantasy Novel Author http://www.angelfire.com/ky/ruthplace/authorsite/authorbio.html >>>>>>> Kildonan Times, a free ezine about things medieval and fantastic. Subscribe at Kildonan Times http://www.angelfire.com/zine/kildonan/times/kildonantimes/html




---

Review Copyright 2001 by Dan L. Hollifield




Aphelion Letter Column A place for your opinions.

Return to the Aphelion main page.