A Case Of Spontaneous Combustion
Book Five in the
Displaced Detective Series
By Stephanie Osborn
Review by Dan L. Hollifield
---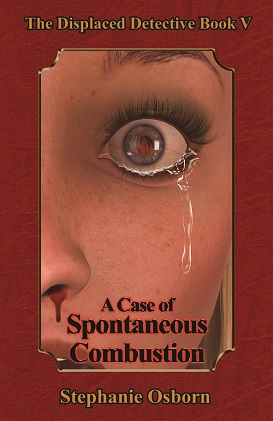 Type of music/work:
Science Fiction Mystery Adventure
Musicians/Performers/Author(s):
Stephanie Osborn

Published by Twilight Times Books

ISBN:
ISBN: 978-1-60619-197-2
ISBN E-Book: 978-1-60619-196-5

at Amazon
at B&N

Cover Illo by Darrell Osborn

General impressions of the album/book:
Quite possibly the best book in the series so far. Although it expands upon the characters and situations featured in the previous books, it can easily stand on its own merits.
Specifics:
Having read all the other books in this series I thought I knew how good this new one was going to be. But it is even better than I expected! The characters have grown and developed over the course of the series- Book 5 reveals just how much they have developed. The story is amazing, sweeping the reader along as the action and adventure progresses. Within the first few pages, I was hooked! There's a perfect blend of all the elements readers of Stephanie Osborn's work have come to expect; the science is accurate, the adventure is fun, the action is pure excitement, the romance is perfectly balanced to show Holmes and Skye to be real people, and the mystery is engaging. Every page gives the reader more and more until the very end, where the set-up for Book 6 is just enough to keep from being a spoiler. Thank you, Stephanie! This is the best one yet!
As I said, this series has been running for several years. While it isn't strictly necessary to have read the previous volumes, having done so will make the reader's enjoyment of this one even better. Stephanie's usual practice is to write each book to stand alone, yet to have some carry-over between them as the series progresses. In effect, books one and two each tell part of a larger story, as do books three and four. I expect that book six will be building upon what few elements remain unresolved at the end of book five.
As a special treat to readers, Stephanie has provided a link to a sample chapter on her personal web page:
The Page of the book at Stephanie Osborn's Website.
Also included there are links to each purchase point where the book is sold, more background info, and additional tie-ins to the series.
Background info:
Few can claim the varied background of Stephanie Osborn, the Interstellar Woman of Mystery. Veteran of more than 20 years in the civilian space program, as well as various military space defense programs, she worked on numerous space shuttle flights and the International Space Station, and counts the training of astronauts on her resumÈ. Her space experience also includes Spacelab and ISS operations, variable star astrophysics, Martian aeolian geophysics, radiation physics, and nuclear, biological, and chemical weapons effects.
Stephanie holds graduate and undergraduate degrees in four sciences: astronomy, physics, chemistry and mathematics, and she is fluent in several more, including geology and anatomy.
In addition she possesses a license of ministry, has been a duly sworn, certified police officer, and is a National Weather Service certified storm spotter.
Her travels have taken her to the top of Pikes Peak, across the worldís highest suspension bridge, down gold mines, in the footsteps of dinosaurs, through groves of giant Sequoias, and even to the volcanoes of the Cascade Range in the Pacific Northwest, where she was present for several phreatic eruptions of Mount St. Helens.
Now retired from space work, Stephanie has trained her sights on writing. She has authored, co-authored, or contributed to more than 20 books, including the celebrated science-fiction mystery, Burnout: The mystery of Space Shuttle STS-281. She is the co-author of the Cresperian Saga, book series, and currently writes the critically acclaimed Displaced Detective series, described as Sherlock Holmes meets The X-Files. She recently released the paranormal/horror novella El Vengador, based on a true story, as an ebook.
In addition to her writing work, the Interstellar Woman of Mystery now happily pays it forward, teaching math and science through numerous media including radio, podcasting and public speaking, as well as working with SIGMA, the science-fiction think tank.
---
Review Copyright 2014 by Dan L. Hollifield






Aphelion Forums A place for your opinions.

Return to the Aphelion main page.

Comment on this story in the Aphelion Forum

Return to Aphelion's Index page.