Lawyers In Hell
Volume 13 of the "Heroes In Hell" Shared Universe Series
Created By Janet Morris
Edited By Janet Morris & Chris Morris
Review by Dan L. Hollifield
---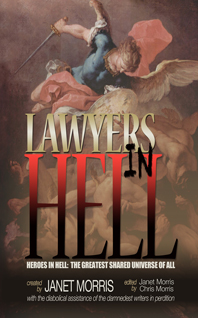 Type of music/work: Science-Fiction / Fantasy Anthology

Musicians/Performers/Author(s):

Janet Morris, Chris Morris, Michael Armstrong, C.J. Cherryh, Leo Champion, Nancy Asire, Jason Cordova, Deborah Koren, Allan F. Gilbreath, Bruce Durham, Michael H. Hanson, Richard Groller, Edward McKeown, David L. Burkhead, Kimberly Richardson, Michael Z. Williamson, Bradly H. Sinor, John Manning, Sarah Hulcy, Larry Atchley Jr., Scott Oden


Published by Kerlak Publishing
Hard Cover ISBN 13: 978-1-937035-01-3 $34.95

Trade Paperback ISBN 13: 978-1-937035-02-0 $19.95

Amazon.com Hardback , Amazon.com Trade Paperback

B&N Hardcover , B&N Trade Paperback , Apple iPad , Kerlak Enterprises Store




Book Design by Ellie Herring; Cover design by Sonja Aghabekian / Cover illustration by Sebastiano Ricci, Sturz der rebellischen Engel, 1720

General impressions of the album/book: One Hell of a good read!

Specifics: There are 22 stories in this collection. I couldn't find a dud in the entire volume. Packed with memorable characters in unique situations, each writer brings something different to the "Heroes In Hell" shared universe. There is something here for every reader. This volume focuses on courtroom proceedings, as one would guess from the title. Historical characters from every era find themselves facing not only eternal damnation, but a hellish court of law.

The writing is excellent, tight, gripping, and hypnotic. I found myself racing through each story, yet reluctant to turn the next page for fear of reaching the end of the book. Every writer shows a polished, smooth style that lends itself easily to the charactization of each and every actor upon this literary stage. With so many writers contributing to the work, one would be forgiven for believing that there would have to be an easy favorite, or least favorite, story. But one would be wrong. By the last page, the reader will want to search out other books in this series. It really is that good!

This is a series you will want to collect. Each and every volume is well worth hunting down and adding to your library.

Background info: Since this is an anthology of short stories, I'll skip my usual practice of giving a short biography of the writers.
---
Review Copyright 2011 by Dan L. Hollifield

Comment on this story in the Aphelion Forum

Return to Aphelion's Index page.