Conventional Wisdom
AnachroCon 3
Holiday Inn Select Perimeter - Atlanta, GA - February 25-27, 2011
By Dan L. Hollifield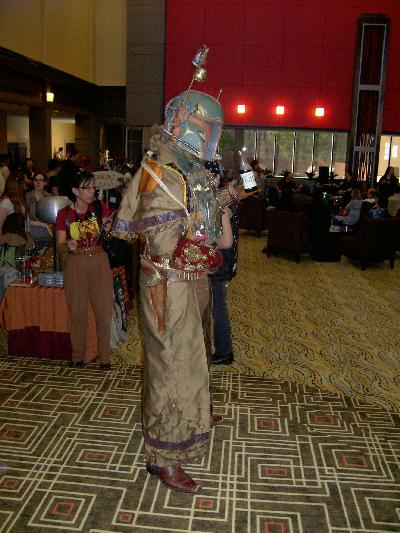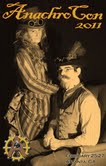 Once again I need to dash this off as quickly as I can before the memories begin to fade. I have expanded upon my earliest report of the convention. A report which some readers may have encountered upon their exploration of the interwebs during the first few days of March. This refinement of that original convention report is far more photo-heavy. That is to enable the readers to get a better idea of not only what the Southeastern US convention circuit has to after, but what Southern-style Steampunk in general has to offer, also. The Atlanta-area steampunk groups have come together to create a truly memorable convention experience.
Southern hospitality, steampunk-style, so to speak. While other conventions may be bigger, AnachroCon is by far the most fun to be had. If you readers have any interest in steampunk as a culture, literary genre, art form, or lifestyle then you owe it to yourself to check out AnachroCon in the future.
Well, to make a long story even longer, something of which I am particularly inclined to do, the third edition of Atlanta's AnachroCon steampunk convention has come and gone this last weekend of February 2011 -; February 25th through the 27th to be precise. I can honestly say that this was the best one yet! If you read my rave review of last year's AnachroCon, you might find it hard to believe that anything could top the previous convention. But indeed, the Con has grown better and better as each year passes. Next year's event is already in the planning stages. From what I've heard, there will be bigger and better surprises in store for Anachronauts next year.
I have to take a moment to praise the hotel and its staff. The Holiday Inn Select - Perimeter/Dunwoody of Atlanta, GA is one of the nicest places I have ever been to for a convention. The staff took the near-simultaneous arrival of hundreds of guests in stride. They worked tirelessly to insure that everyone's stay was the most pleasant imaginable. Each interaction I had with the hotel staff was more and more impressive as the weekend progressed. The desk clerks, the housekeeping staff, the bartender, the restaurant staff, the cooks - everyone there that weekend deserves the highest of praises! They all worked around the clock to see to the needs of each and every guest. If you have to visit Atlanta, in the Dunwoody area, keep this hotel in mind as your home away from home! You will, without doubt, thank me later.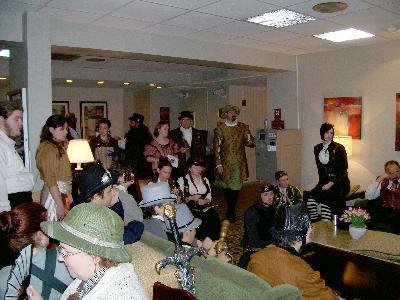 The image to the left is of the lobby of the hotel in which the first two AnachroCon conventions were held. 300 to 400 guests attended those two conventions. The hotel was wonderful, as were its staff, but AnachroCon outgrew their available rooms and space. It was grand fun attending those previous AnachroCon conventions, but the time had finally come to relocate to a larger venue. The wonderful folks who run AnachroCon haven't forgotten the Wellesley Atlanta Airport Hotel in Atlanta, GA. No, by all accounts, there are several other small conventions that take place at that fine establishment. Among those are one or two that are eagerly attended by AnachroCon staff and guests. I, myself, look forward to adding those conventions to my list of prime vacations as the economy continues to improve, little by little as time goes by.
AnachroCon may have started out as a humble little specialized convention of steampunks and alternate history fans, but it has gained in popularity and memberships as each convention takes place. Having been there from the near-beginning - first as a member of the TerminuSteam steampunk community, then later as a minor-league writer with connections in the con-circuit of writers, artists, fans, vendors, craftspeople, actors, musicians, and other performers - I can say without a doubt that AnachroCon is growing by leaps and bounds. It isn't Dragon*Con, but then, it has no desire to be. If you are interested in Steampunk, Alternate History, costuming, the Victorian and Edwardian eras of history, the Industrial Revolution in both fact and fiction, and Science-Fiction and Fantasy in general then AnachroCon is the Con to go to if you can travel to the Southeastern United States. Take it from me, this is one amazing convention experience. One not to be missed!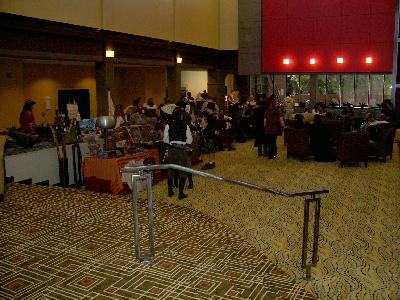 Here is another photo, but this one is from the 2011 AnachroCon. I'll align this one on the right so as to make the layout of this little missive more pleasing to the eye. Ready? Well then, engage your safety devices because we're stepping into the past by way of the alternate history version of the present! This is the view from the middle of the lobby of AnachroCon's new home :
Big, isn't it? But wait, there's much more!
Once again, AnachroCon more than doubled in the number of attendees. But it also doubled in the number of events, panels, guests, performers, vendors, as well as the amount of fun!
Well over 700 people attended, but it looked more like 1000 to me - from the sea of happy faces I observed each time I walked through the hotel lobby. The two vendor rooms were packed each and every time I looked into them. The many panel discussions were likewise well attended. Even the ones which suffered from being scheduled against one another had respectable numbers of attendees. There were three tracks of programming going on at all times, plus numerous one-off special events, so there were plenty of happenings to catch the attention of the myriads attending. Just to give you an example, I'll quote from the convention program a bit:
Thomas Willeford, the owner of Brute Force Studios. Thomas and his products have been widely featured on television (MTV, BBC, ABC's Castle), online (Wired, BoingBoing, Popular Mechanics), and in print (Marquis Magazine, Bizarre Magazine, Pirate Magazine).
Mark Helwig, an award-winning artist and illustrator. Mark Helwig has a style all his own - quirky, creative, occasionally odd, and often humorous. His focus on craftsmanship, storytelling, and images that cause the viewer to "double take" are traits that set him apart in today's industry. He is a frequent artist guest and panelist at shows and conventions across the southeast, and his work is highly sought by discerning private collectors.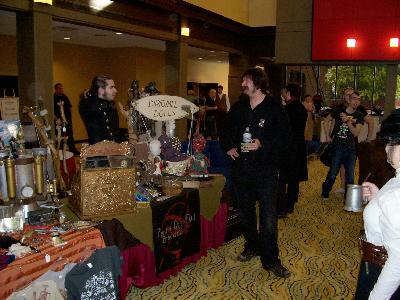 Matt Silva is the founder and creative director of Penny Dreadful Productions. Though he is versed in many aspects of the film art department, he focuses his career as a special makeup effects artist for New York based I.A.T.S.E. Local 798 union makeup and hair. His career has led him to work professionally with Lone Wolf FX/Bill Johnson on major motion pictures, and is acting Art Director for Whitesone Motion Pictures. As creative director, Matt acts as lead conceptualist and builder for the PDP workshop.
Erin Bushko co-founded PDP with Matt Silva in January of 2009 and is responsible for many of the business aspects of the company. As head of the costume department, she handles the design and creation of all the costumes produced in house. She has been a designer and seamstress for film, professional theaters, and private commissions for over 10 years. On top of all that Erin is also a professionally trained actor. She has a BFA in Music Theater, a Certificate in Shakespearean Acting from RADA in London, and studied stage combat with world renowned expert Richard Ryan.
Steampunk Boba Fett (John Strangeway), one of the most recognized figures in the Steampunk and Star Wars fan communities. He has won top honors at numerous conventions. With Matt Silva and Erin Bushko of Penny Dreadful Productions, the builder of the suit, he is featured prominently in "Four Days at Dragon*Con." (He's the guy in the photo at the top right of this page.)
Sabrina Pandora: a constant of the Atlanta nightlife, often seen at parties, clubs and events all over town. She is a comedienne, author, instructor and a Mistress of Ceremonies for conventions, events and burlesque shows.
J. D. Sutton as Thomas Jefferson, American's premier interpreter of the life of Thomas Jefferson. Mr. Sutton has appeared in a variety of television projects, including Tom Hanks' HBO series From the Earth to the Moon, and was featured in the title rile of the independent film Farmer McAllister's Thinkin' Machine, which was honored as the "Best Comic Short Film" at the 2001 Atlantic City Film Festival. Twilight at Monticello : An Evening with Thomas Jefferson has been presented off-Broadway, as well as at numerous venues throughout the country, including Philadelphia's historic Carpenters' Hall.
Bill Pacer as Ben Franklin.
Roger Riddle, an expert in all things Pirate as well as history.
Tripp Corbin, who dons historic clothing and participated in various reenactments and living history programs around the United States. Tripp has been reenacting for over 14 years now. He started in the Civil War era and has since branched into the Revolutionary War period with occasional forays into the French and Indian War, War of 1812, the Texas War for independence and World War II
Jay Peterson, who as Jay "The Barbarian" is a fight choreographer, actor, writer, and armorer. A former Marine and veteran of Iraq and Afghanistan, Jay has published several articles in The Fight Master, the biannual magazine of the Society of American Fight Directors. He has served as fight choreographer for local theaters and can beseen in season 3 of the sci-fi web series The Sentinel Chronicles.
Scott Hodges as General James Edward Oglethorpe, a native of Hodges, South Carolina, Scott Hodges can trace his family roots in the area to the 1750s. He attended William and Mary College, where his interest in colonial history merged with his theatrical leanings, leading him to an apprenticeship at Colonial Williamsburg. Scott is a living history performer at Fort King George State Historic Site in coastal Darien, Georgia, where he portrays several historical characters for visitors.
Atlanta Radio Theater Company : For the first time, the Atlanta Radio Theater Company (ARTC) is performing at Atlanta's Alternate History Convention. This home grown theater group will be bringing Steampunk stories to life on our very own stages! The Atlanta Radio Theater Company has been bringing quality audio drama to listeners around the world since 1984. Join them in their celebration of the imagination as they preserve this vital, vibrant art.
Bumps, Bruises, and Bent Blades, founded in 2003 by Daniel Moore, Richard Burke and Gayle Thompson, is a group of performers who combine classical sword fighting with interactive theater. They have been performing in the Atlanta area and can be seen tutoring others in fencing at the Georgia Renaissance Festival.
Carnival Epsilon Sharp blades, burning fire, and a silver fork. Simple items, and yet when you see what happens with them, you will understand why Carnival Epsilon's motto is "Doing the extraordinary with the ordinary." Find out what limits the human body can be pushed to. As an added treat, Professor Epsilon will have his famous elixirs on hand. Watch the live demonstrations of what his amazing product can do for you.
Cemetery Surfers Based out of Mississippi, The Cemetery Surfers was spontaneously formed by Jeff Uglyshoes in 2005. The current lineup consists of Jeff on guitar and vocals, Dr. Mark Burtman on bass, Connie Burtman on Backup vocals, and Toby Herndon taking over drum duties. Their sound is influenced by surf and rockabilly music. Their lyrics are usually based around the paranormal, as the members of the band are all Parapsychologists.
D.J. Light: DJ Light is an Atlanta-based producer, composer, and DJ. He spins classic and groundbreaking trance, progressive, and electro with an international flavor.
Denim Arcade Denim Arcade plays the best of the 1980s, from the B-52s to U2 and everything in between. The band is made up of Becky Cormier Finch (vocals, keyboards, rhythm guitar, flute), Wade Finch (vocals, lead and rhythm guitar), John Christopher (bass, vocals) and Andy Womack (drums, vocals).
Dr. Q, an eccentric audio arranger and morally ambiguous scientist. After exposing the general public to experiments in aural engineering at various events, he further took on the roles of the Steampunk Chronicle's Media Editor as well as the Founder of the Artifice Club, headquartered in Terminus, Georgia.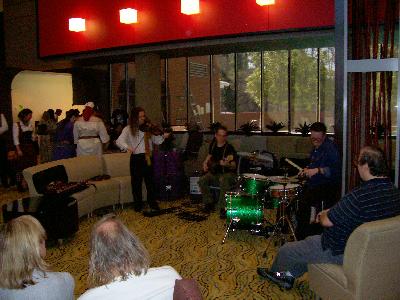 Frenchy and the Punk : Euro-American duo Frenchy and the Punk (formerly The Gypsy Nomads) fuse raucous live guitar looping, cheeky ballads sung in English and French, danceable, modernized old-world inspired melodies and thunderous tribal-march-style drum instrumentals. French-born Brit lead vocalist and percussionist, Samantha Stephenson and American-born punk veteran guitarist Scott Helland of Czech and Portuguese descent, make up this spirited duo.
Ghosts Project : Formed in 2006, The Ghosts Project is comprised of Paul Mercer on violin and Davis Petterson on percussion. The band, which is located in Atlanta, features an ever changing lineup of special guest musicians from all over the country.
Melange Express : As Melange Express, Zachary Anderson and Cherise Fung draw on alternative and neo-tango music and fantasy/sci-fi themes to create a music and dance experience that is uniquely their own.
Men of Melody: Michael "EasyEyes" Richardson (guitar, vocals) and Edward "the Redbeard" Rigel are the Men of Melody, two men in kilts who provide the traditional Celtic favorites guaranteed to get the audience singing, clapping, and stomping along.
Play It With Moxie : Play it with Moxie performs ballroom banquet music in the glorious tradition of the early 20th century. Here you'll find swing, Latin, ballads, vocal harmonies and a horn section, all delivered with class... with style... with Moxie.
Talloolah Love's World Fair Exposition Come one, come all to the dark side of American history, a place Bacchus himself would revel in and raise an eye brow at. This show has it all, the sumptuous sultriness of the hoochie coo, the vicious vaudevillian vixens of variety, and a little sampling of the sights of the circus. Here we have a corner of the World's Fair by some of the most darling divas of the deep south! If you find yourself too seduced by the green colored bottle this weekend or are inclined to parlor gossip for all hours on end, then do that, BUT DON'T MISS THIS SHOW Folks!
The Extraordinary Contraptions, making their third consecutive appearance at AnachroCon, The Extraordinary Contraptions are one of the best - and best-known - Steampunk bands in the Southeast. They are currently in the studio working on their third self-produced album and planning a spring tour of the Eastern U.S. They were recently taped in the competition on America's Got Talent and have had a runaway viral video online with their Dragon*Con TV music video "I'm On A Blimp." If there were to be a Woodstock of steampunk bands, the Contraptions would be headlining along with their peers Abney Park, Dr. Steel, Vernian Process, and Professor Elemental.
The Vauxhall Garden Variety PlayersThe Vauxhall (VAHKS-uhl) Garden Variety Players are artists and actors performing traditional music un-traditionally. They solicit the imagination, captivate with manners of bygone eras, and instill their love and commitment for old forms of music. The Players have performed at such diverse venues as Oakland Cemetery's Sunday in the Park and Halloween Tour, Grant Park Conservancy, Frolicon, STEAMFest, the Decatur Preservation Alliance, and the Savannah College of Art and Design. AnachroCon is pleased to welcome them back for their third year.
G. D. Falksen,who writes in a wide range of genres including historical fiction, pulp adventure, vintage weird, steampunk, modern fantasy, science fiction (often with historical allusions), conspiracy, mystery, suspense and horror. At the moment, he has received the most attention for his steampunk works, although they are only one portion of his writing portfolio. He has appeared in The New York Times, the San Francisco Chronicle, the Hartford Courant, Marie Claire Italia, Time Out New York, New York Magazine, Bizarre Magazine, and on MTV. I have appeared as a guest at major events and conventions such as Dragon*Con and NYCC. One of the Secret Masters of Steampunk, Mister Falksen is a grand fellow who has done much to promote everything steampunk for many years.
Jana G. Oliver - After spending a couple years honing her skills, Jana sold her Time Rovers® Series to Dragon Moon Press in 2005. That series (SOJOURN, VIRTUAL EVIL and MADMAN'S DANCE) was nominated for fifteen awards and has won twelve to date. She recently achieved her ultimate goal : a contract with one of the major publishing houses and that came to fruition with St. Martin's Press. The Demon Trappers Series, a Young Adult Urban Fantasy series set in Atlanta, will debut in January 2011 in the United Kingdom and February 2011 in the United States. Jana's books are nothing short of incredible. Seek them, buy them, read them over and over again!
Nick Valentino - an up and coming writer who is currently hard at work on his second novel in his steampunk series of "Thomas Riley" stories. Nick also attended AnachroCon 2 in 2010 and quickly made himself a fan favorite among the guests. If you haven't yet had a chance to read his first book, you owe it to yourself to grab a copy as soon as you possibly can.
Emilie P. Bush : "Chenda and the Airship Brofman" is Emilie's first novel, but she has been a professional writer for years. Until this book, she had been in the business of reporting the news, most recently as the host of Georgia Public Broadcasting's Georgia Gazette. Emeilie is another returning AnachroCon writer. Her work is as amazing as is she, herself. In short, a wonderful lady with a steamship full of talent.
Kimberly Richardson : the author of Tales from a Goth Librarian, which was a finalist in the Fiction & Literature : Short Story Fiction category of the National Best Books 2009 Awards and a finalist in the Fiction : Short Story Fiction category of the 2010 International Book Awards, sponsored by USA Book News. She is also the editor of the popular Steampunk anthology Dreams of Steam. She lives in Memphis.
Dan Hollifield: An online presence since 1995- In 1997 he created Aphelion Webzine, the Internet's oldest surviving free creative writing website. Dan has one steampunk short story featured in the anthology "Flash of Aphelion" available through Lulu.com, and a second steampunk short story that will appear in "The Immersion Book of Steampunk" anthology, published by Immersion Press in the UK in mid-April of 2011. (Wait a minute, I know this guy...)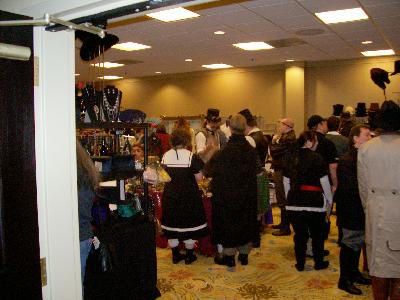 All of the musicians, performers, and craftspeople deserve a round of applause of their own. I couldn't turn around during the entire weekend without seeing wondrous displays of incredible talent. Once again, everyone was friendly, open, and approachable. I counted dozens of different conversations between convention guests and attendees concerning areas of mutual interest. Once again, AnachroCon has earned its reputation as a "teach-in" for all concerned. I overheard costuming secrets exchanged, makers of all experience levels trading hints and tips and tricks, professionals praising the works of their talented fans, as well as all sorts of conversations that were endlessly fascinating. Whether it be historians and fans, craftspeople and shoppers, musicians and listeners, performers and audience members – everyone concerned was ready and willing to teach as well as learn. And that is just part and parcel to what AnachroCon is all about. Not only fun and entertainment, but education as well. The panel subjects ranged from steampunk and Victorian literature to Victorian home-making, from costuming tips and tricks to the Eastern mysticism that was so popular in the Victorian Era, from making steampunk accessories out of leather, brass, and copper to a proper British Tea Party...
But that's the thing. The sheer variety of subjects covered was enough to make the average con attendee wish they were serial triplets. There was so much to do and to see and to listen to that no one person could take it all in at once. Like every convention I've ever attended, I had to carefully plan out my days so as to be able to get to the panels, performances, and events that I most wanted to see. There is so much offered by AnachroCon! Every minute of every day is packed full of wonders and delights. It was a difficult choice to make between all the programming tracks as to which I wanted to attend most of all.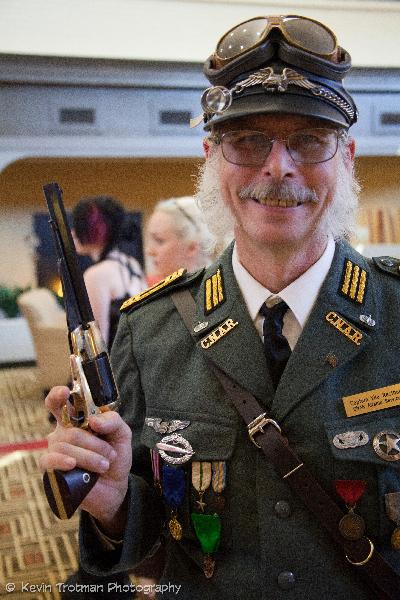 One thing I want to say : even though I am currently a very low-tier pro writer, there was not one whit of snobbery evidenced towards myself or any other newly-fledged writers. In the hallways, in the panels, in the lobby, even in the elevators – Everyone was kind, supportive, and interested in what each of the other writers were working on. Offers of helpful advice and locations of possible research materials flowed freely. I never detected any hint of disdain or elite-ism from the more senior and successful writers. Everyone was just so friendly and open that I was constantly amazed. That attitude also extended far beyond the writers. The craftsmen and ladies, the costumers, the musicians, the performers were each and every one open to being approached as well as eager to share conversations.

In fact, that sort of open goodwill seemed to be the theme of the entire convention. No matter where one turned, everyone there acted as if they were attending a vast family reunion. It was impossible to meet anyone, throughout the whole weekend, who acted as if they were a stranger. This is one of the things I love most about AnachroCon. I'm so very glad that this tradition of "family" has continued unabated from the first con through to this latest one. That is a testament to just how good William and Cindy MacLeod are at tossing this kind of shindig. The entire staff worked tirelessly to insure that everything went swimmingly. I know that there had to have been problems and slight hiccups, but those were invisible to me and to the rest of the attendees. Charles Strobel is an amazing fellow, as in Austin Sirkin, Megan Maude, Melissa Jordan, Dan and Robin Carroll, Enrique Velazquez, Thomas De Sadlier, Bill Harrison, Paige Smith, Randi Bruner, Richard Jakiel, Hendry and Karen Betts, Shannon Drake, as well as all the other staff members I didn't get a chance to meet in person. I think each and every staff member, their assistants, and all concerned deserve a thundering round of applause.

My time to finish this overview of one of the most compelling steampunk events of the convention circuit is rapidly drawing to a close. I realize that I have yet to cover a tenth of all the wonderful guests and events AnachroCon has had to offer. But time does not permit me to be as painstaking as I would like in this report. Allow me to close therefore with the both the URL of the convention website ( AnachroCon, The Official Website ) where the reader can find all the lists of guests, historians, musicians, performers, and staff. I offer my deepest thanks that next year's con already looks to be shaping up into an even more amazing event than has the previous three occasions. In short, if you missed it, you missed a lot. Start making plans to attend the 2012 AnachroCon! You only have eleven months left to prepare!

Your humble servant,


Dan L. Hollifield – Senior Editor/Publisher : Aphelion Webzine
Captain Vila Resthal, CNAR Combined Airship Service, Retired
---
© 2011 Dan L. Hollifield

Dan Hollifield is the senior editor and publisher of Aphelion Webzine.

Comment on this story in the Aphelion Forum

Return to Aphelion's Index page.