Off The Shelf
Rosemary and Rue
by Seanan McGuire
Review by Larissa March
---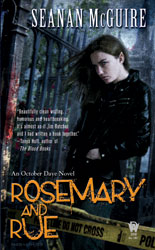 "It's really f***ing good, go read it."

That's the review I threatened to write about

Rosemary and Rue

, but that would say so little about a story that pulled me in and kept me bound to the last word. Seanan McGuire has long been one of my favorite authors, both for her addictive fiction and her excellent non-fiction, such as Aphelion's ongoing feature

Thoughts on Writing

. (I should admit that Seanan and I have been friends for quite a long time, but that's got surprisingly little to do with this.)

October "Toby" Daye, a sometime PI in San Francisco, is a changeling whose life caught between two worlds has been torn apart by the unwelcome attentions of Faerie again and again and yet again. Ever since escaping from a fourteen-years-long magical captivity, all she really wants is to live a normal mundane life and be left alone. But when Evening, the Countess of Goldengreen, traps her in a death curse that will require her to solve Evening's murder or die, Toby carries through with the vices of her virtues – pride, loyalty, devotion, and stubborn will. Seanan's fairy tale noir is gritty, bitter, beautiful, strange, bewitching and ugly all at once, and vividly unforgettable.

Through Toby's eyes, we are given glimpses into the interconnecting politics of a dizzying array of supernatural creatures, without the book ever falling into the trap of "encyclopedia exposition"; this is a good thing, because the story's relentless pace would be hard to sustain if we stopped to examine every facet of faerie society in minute detail. Seanan gets the balance just right, giving us everything we need to know about the various creatures and factions without ever resorting to stilted digressions or letting the story lose its momentum.



Rosemary and Rue

is a marvelously original story that will stay with you, leaving you taking second looks and sideways glances just to wonder what might be hiding behind the world you walk through.

---
Rosemary and Rue by Seanan Mcguire will be released by DAW books on September 1, 2009.

Read an excerpt from the novel.
---
Review © 2009 by Larissa March

Larissa March is a New Englander who has been sucessfully transplanted to Georgia, where she has put down roots with her husband, two cats, and an improbable number of books.

Comment on this story in the Aphelion Forum

Return to Aphelion's Index page.