The Listening Room
Stars Fall Home
by Seanan McGuire
Review by Rob Wynne
---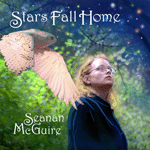 To suggest that Seanan McGuire is prolific is to hint that the sea is a trifle wide or that the Grand Canyon is slightly scenic. She eats, sleeps, and breathes words, and churns out stories, poems and songs as easily as walking. And she walks a lot.

Until recently, however, the best way to hear one of her many songs was to follow her discreetly through the streets of San Francisco, listening for her dulcet tones wandering purposefully to and fro at a brisk walk. It finally occurred to her that if enough people adopted this strategy, the sidewalks were going to get awfully crowded, so she recorded a CD of her music that you can listen to anywhere. And it was well worth the wait.

Stars Fall Home is actually McGuire's second album. The first, Pretty Little Dead Girl, was an fortunate accident: a live recording that was good enough to turn into a CD. Being a live show, it featured simpler arrangements suited for the live stage, relying mostly on a single guitar and McGuire's own lyric voice. In the studio, however, she was free to be more ambitious, and that ambition shows in the lush, complex musical arrangements.

A few of the songs from the live album are reprised here. The centerpiece of the album once again is the incredible "Sycamore Tree", a tale of love and loss with a three-part vocal intertwine that sounds impossible. "River Lies", a song that was possibly one of the weaker songs on the live album, is astoundingly poignant; Steve Macdonald's vocals inject a real sense of ache into the duet, while Gwen Knighton's harp runs beneath the pair like running water. And "Pretty Little Dead Girl", a doo-wop ghost story, is still far more fun than it has any right to be.

Most of this album is new material, though, and it starts high and never lets you down. The gentle gait of Kristoph Klover's guitar in "Paper Moon" sets a perfect foundation for Amy McNally's astounding fiddle , and a vocal that manages to be both reassuring and defiant at the same time. "Dorothy" is a song inspired by the comic book of the same name, which in turn was inspired by L. Frank Baum's The Wizard of Oz, and covers some ground that wasn't touched on in the original novels. Here, again, the musical arrangement provides perfect support for the desperate, searching vocals. And "Four Color Love", a sultry torch song with an extended comic book metaphor you'll just have to hear to believe, features a bluesy Jeff Bohnhoff guitar solo that sounds like it wandered into the studio from a Pink Floyd session.

Love, loss, and separation are frequent themes in the songs on this album, and nowhere is that more pointed than the single cover McGuire chose to include, Talis Kimberly's haunting selkie song, "Still Catch the Tide". You can almost hear the waves crashing in the background as she plaintively sings "I never thought that I could hold you forever / Always knew deep down you'd have to go home." In her own "Follow Me Down", which leads off the album, she sings of two lovers kept apart by their own intrinsic nature. And of course, again, there's the masterful "Sycamore Tree", a track so amazing that I'm going to break my own rules and mention it twice. "Sarah Tapper loves Harry Marshall / That's a lie, and that's a fact / But I left those words in another lifetime" she sings bravely, but she cannot hide the longing loneliness that edges her words. The story is timeless and universal, and this recording trades some of the raw urgency of the live album for tightly layered harmonies that draw you in and effortlessly wind their way around you.

Not all the songs are heartfelt songs of loss, though. "Country Song" is a delightful tribute to the recent James Gunn camp horror flick Slither, with a singable chorus that will get stuck in your head whether you like it or not. And I've always had a soft spot for the dinosaur romp "Evil Laugh", ever since I first heard it the day Seanan called me and left it on my answering machine in lieu of a message. Here, it is rendered a surf-rock song that rocks the Paleolithic Era as it has never been rocked before.

You can hear samples of all these songs, as well as order a copy of the CD, directly from Seanan McGuire at her webpage, http://www.seananmcguire.com/. Go get yourself a copy; you won't be disappointed.
---
You can read the lyrics of Paper Moon in this month's issue.
---
© 2007 Rob Wynne



Rob Wynne is a systems administrator, writer, and musician who lives in Alpharetta, Georgia. He has been the webmaven for Aphelion since 1997.




Comment on this story in the Aphelion Forum

Return to Aphelion's Index page.