First Among Sequels
A Fantasy Novel
By Jasper Fforde
Review by Dan L. Hollifield
---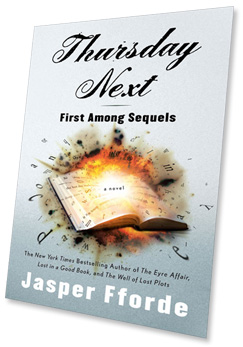 Type of music/work:

Sci-fi / Fantasy novel.

Musicians/Performers/Author(s):

Jasper Fforde
Jasper Fforde's Website
Published by Pengiun Books
ISBN: 9780670038718
Cover by Bill Mudron and Dylan Meconis


General impressions of the album/book:


This was the fifth of Jasper Fforde's Tuesday Next books that I've read, but it won't be the last! They just keep getting better!

Specifics:


Once again, Jasper Fforde has dipped into the Thursday Next universe and come up with another shining gem. Funny and gripping, filled with both characters from literature and original ones, fast paced and impossible to put down -another great addition to the series. But it can also stand alone, if this is the readers first foray into the worlds of Thursday Next. There are familiar characters from the earlier books, as well as brand new characters, all serving to tell yet another wonderful story of Thursday's adventures in the Bookland and her own very real world.

The writing is crisp, clean, and sweeps the reader along. The characters are real, living, breathing people. Every one is true to their literary origins, with just that hint of "other" that comes from the mixing of different genres and periods. This is an amazing series, one that's full of fun and life and adventures that we'd all like to share. Jasper Fforde writes books that the reader will love. But be warned, once you reach the end of the book you'll start haunting your favorite bookstores looking for the next volume.

I was hooked from the very first page. Mr. Fforde has created a delightful world here. The characters are realistic, the settings are compelling, the plot is stimulating, and the humor is entertaining. As my eyes raced across the pages, my mind's eye had no trouble visualizing the action. As I've said before, it was as if this book had been written to be filmed. Some producer out there needs to obtain the rights to this book and series to get a head start on making movies out of them. I'd stand in line for tickets!

Readers will want to get the rest of the series as well:
The Eyre Affair
Lost In A Good Book
The Well Of Lost Plots
Something Rotten

And the latest volume: Thursday Next: First Among Sequels

ISBN: 9780670038718
Viking / Hardcover / 400 pages / $24.95
Available July 19, 2007

Look for "First Among Sequels" at these booksellers:

Amazon.com

Barnes & Noble.com

Booksense.com

Background info from the back of the book:


Literary sleuth Thursday Next is out to save literature in the fifth installment of Jasper Fforde's wildly popular series

Beloved for his prodigious imagination, his satirical gifts, his literate humor, and sheer silliness, Jasper Fforde has delighted book lovers since Thursday Next first appeared in The Eyre Affair, a genre send-up hailed as an instant classic. Since the no-nonsense literary detective from Swindon made her debut, literature has never been quite the same. Neither have nursery rhymes, for that matter. With two successful books of the Nursery Crime series under his belt, Fforde takes up once again the brilliant adventures of his signature creation in the highly anticipated fifth installment of the Thursday Next series. And it's better than ever.

It's been fourteen years since Thursday pegged out at the 1988 SuperHoop, and Friday is now a difficult sixteen year old. However, Thursday's got bigger problems. Sherlock Holmes is killed at the Rheinback Falls and his series is stopped in its tracks. And before this can be corrected, Miss Marple dies suddenly in a car accident, bringing her series to a close as well. When Thursday receives a death threat clearly intended for her written self, she realizes what's going on—there is a serial killer on the loose in the Bookworld. And that's not all—The Goliath Corporation is trying to deregulate book travel. Naturally, Thursday must travel to the outer limits of acceptable narrative possibilities to triumph against increasing odds.

Packed with word play, bizarre and entertaining subplots, and old-fashioned suspense, Thursday's return is sure to be celebrated by Jasper's fanatical fans and the critics who have loved him since the beginning.



---
Review © 2007 by Dan L. Hollifield

<

Comment on this story in the Aphelion Forum

Return to Aphelion's Index page.