The Listening Room
Courting My Muse
by Mary Crowell
Review by Rob Wynne
---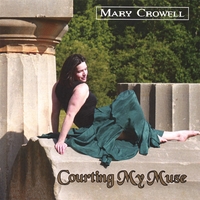 The first thing someone is likely to say upon first hearing Mary Crowell play her idiosyncratic approach to filk music is "Wow, she's good!" This will usually be followed by the hopeful plea "Does she have an album out?" Fortunately for fans of sultry jazz about mythology, cartoon sex symbols, and music theory, her first CD, Courting My Muse has just been released.

Courting My Muse showcases the wide range of Crowell's piano-driven jazz. Most of her songs have a playful, sultry vibe that draws you into the stories she's telling. "Galatea (and Pygmalion)" is a love song that retells the classic story from the statue's point of view, capturing the essence of that characters frustration of waiting. "Magnus Retail", (featured in this months Poetry section) is a bouncy advertisement for a magic shop offering a wide range of services for those with the right coin. The boastful refrain can't help but draw a smile. Meanwhile, "Summertime Beagle" reflects on much more mundane concerns, a paean to the simple joys of lying around in the late summer sun with a loved one, soaking up the last of the warmth of a season fading into autumn.

There really isn't any filler on this album, but certain tracks do stand out. The bewitching, Gershwin-tinged "Change of the Season" reflects on the Persephone myth with a slow, drifting melody that surrounds you like wisps of smoke. "The Doctrine of Ethos" explores the quasi-magical, mood-altering power that music has over people, suggesting that even reducing this ancient art to its basic mathematical formulas does not rob it of its mystical ability to saw the minds of those who hear it. And just in case you think there should be more humour, "When I Grow Up" gives us a delightful tribute to that sexy star of the screen, the indomitable Jessica Rabbit.

Perhaps the most standout track on the CD is the infectiously creepy "Get Down Mama", a blood-moon ode to the shadows of October. The witches' chorus of "Ah ha-ha" startles you at the same time as it pulls you in. Crowell wrote the song with her young son, and the energy and imagination it projects linger long after the track is finished. (It occurs to me belatedly that this album has 3/4 of a season cycle, with "Summertime Beagle", "Change of the Season", and "Get Down Mama" covering summer, winter, and autumn, respectively. It lacks only a spring song for the full quartet.)

Behind Crowell on the piano is an assortment of Atlanta area musicians, drawn mostly from her two bands, "Three Weird Sisters" and "Play It With Moxie". If I had a complaint about the record, it's that the tracks featuring the other musicians tend to bury them in the mix. I'd really have liked the drums and bass especially to be brought forward a little more on some of the tracks, to really give it that smoky jazz club feel. Overall, though, this is a minor complaint.

If you're familiar with filk music, this is an album pretty much unlike any you've heard in the genre. While there have been other piano-oriented filkers before, none of them quite brought the blend of jazz and torch song that Crowell specializes in. This, along with her willingness to do pretty much anything that involves playing with other musicians, has made her a rising star in the community in just a few short years. It was announced in March that she will be the Toastmaster at Consonance, the northern California filkcon, in 2008.

If you like jazz, or mythology, or honestly just think there aren't enough songs dedicated to expressing a young girls fancy for a movie-star elf, Courting My Muse is an album you should have in your collection.

---
(You can hear samples from (and purchase) Courting My Muse at CD Baby. The lyrics to the song Magnus Retail appear in this month's poetry section.)

---
© 2007 Rob Wynne



Rob Wynne is a systems administrator, writer, and musician who lives in Alpharetta, Georgia. He has been the webmaven for Aphelion since 1997.




Comment on this story in the Aphelion Forum

Return to Aphelion's Index page.