Aphelion
Tell us what you thought about the May 2017 issue!
Moderator: Editors
Editor Emeritus
Posts: 3245
Joined: December 31, 1969, 08:00:00 PM
Location: Kaukauna, Wisconsin (USA)
Please read and enjoy our newest Issue.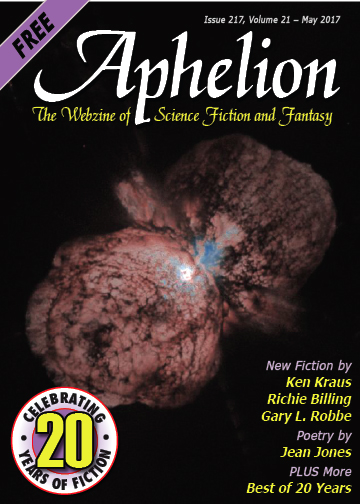 Long Fiction Editor
Posts: 2724
Joined: January 11, 2010, 12:03:56 AM
Location: by the time you read this, I'll be somewhere else
Ha! Just FYI, but Ken Kraus is on the cover as an author of "New Fiction," but actually his is an old one I pulled up from the Best Of selections.
I was raised by humans. What's your excuse?
---
Who is online
Users browsing this forum: No registered users and 0 guests
Powered by
phpBB
© 2000, 2002, 2005, 2007 phpBB Group.
Designed by
STSoftware
.