Editor Emeritus
Posts: 3245
Joined: December 31, 1969, 08:00:00 PM
Location: Kaukauna, Wisconsin (USA)
Log in and vote in the poll above or (to provide more feedback to the authors) use the voting long form in the post following this one, whichever you have time for--or vote both ways. The voting methods count together toward picking the final winner.

Contest entrants must submit a long form vote, but may also vote in the poll above.
The challenge was to write a speculative fiction story inspired by this image, drawn by our own Long Fiction Editor, Lester Curtis: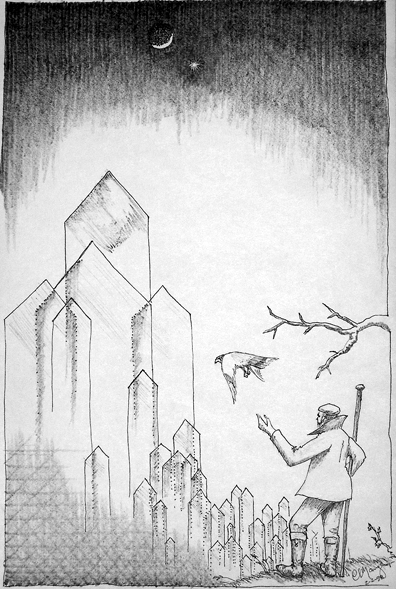 The following entries were received:
Compañeros de Armas…
As Alexandre Núñez walked over the last hilltop, he saw below his feet the crystal formations that stood in the large open area. Those transparent structures, of varying sizes and heights, were very peculiar because their atoms were arranged in a highly ordered microscopic structure, forming a crystal lattice that extended in all directions, with flat faces of specific orientations.
These were not simple crystals, however, as they all had figures stuck inside that were easily visible from the outside. The figures were the corpses of dead soldiers – soldiers like Alexandre himself had once been - who had been inserted into these strange coffin-like materials and left in the open, as a sort of very strange burial ground. This area served both as a memorial and a warning to all people still living on this small planet.
Strange to say, it was the winners who had defeated these soldiers that had erected this odd burial ground with one clear purpose: to show everyone what happened to anyone who tried to oppose their rule…
Alexandre Núñez was saddened, even becoming a little twitchy. It had been ten years since he had left this world, while the place was still being invaded. He had been one of those soldiers when the indigenous species of this Space Sector had fought to defend themselves and maintain the right to be free from alien oppressors. But they failed eventually and their world had fallen under the bloody rule of the newcomers who had conquered the small military forces that protected this place.
While staring at the structures, and looking at the corpses that were kept inside each one of those, the Spanish former soldier slowly remembered the reason why they were different sizes and heights. In fact, his troop had been made up of mercenaries from different species, coming from many star systems, who had joined forces with the locals in order to help them defend their planet. For example, there was a yellowish tall biped named Huljm with his almost spherical head and two very short hands, who had been the communication officer in those days; then, there was Thusb, a giant-sized Fruelem ( about 17 ft. tall… )from a small moon of a gas planet, who was an almost unbeatable hand-to-hand fighter; and also that slender though well-muscled four-legged commander, who could easily hit any target with both hands at the same time if he was given high-energy pistols or modern rifles.
Alexandre Núñez had been the only human of the group, though highly valued for his previous experience as a space soldier, having served in the Earth Military before choosing the life of a mercenary. The pay had been better and he could select what place, and which side, he wanted to support willingly.
The battle for this planet his troop was hired to fight for was, truly, similar to a movie made on Old Earth, his home planet. The movie's name was
The Magnificent Seven
and it was about a Mexican village which was periodically raided for food and supplies by plunderers, until the villagers finally decided to hire gunfighters to protect them.
Their last stand on this world hadn't lasted very long, anyway. Once the powerful starships of the Nlehkls had reached the orbiting position, they had dropped their gas bombs, and everything was soon over. The members of his group of experienced mercenaries had quickly fallen to the ground, as lifeless bodies, having been easily killed by the attackers.
The gas bio-weapons that were dropped had piggy-backing fatal viruses that immediately recognized the specific alien genes they could attach to. These viruses had done their bloody job: the bio-weapon bombs had been enough to wipe out their entire group, thus leaving the alien locals without any defensive measures. So, their civilization had been wiped out and the winners had built that burial ground, with all the remains of the mercenaries who had dared oppose them.
"
They are over hovering right our heads
…" Thusb had told them that day.
"
Instruments say they are dropping their bombs now
…" Huljm had pointed out, turning to the giant-sized Fruelem.
"
Get ready
!", "
They shall not win
!", and many other orders and bad curses had followed. The man could still hear those imprecations in his mind, and the words of his fellow soldiers as they struggled to move forward while enveloped by their bluish exo-armor uniforms, their high-energy always guns pointed ahead of them. Their eyes – at least the pupils of the soldiers that had eyes, as some members of other species of the troop relied on their second sight… – were attentive and ready to open fire as soon as their enemies showed off.
As the graying former soldier reminded himself of all of those events, memories of battles that had happened so long ago, he had a breath of air and made a strange face.
Of course,
he would never tell the families of those fallen mercenaries that it was he himself who gave the aliens the exact DNA sequences of every single member of their military troop beforehand
, so they could use the specific bio-weapon to hit and damage the genes of the defending soldiers deployed on the surface.
He had given the gene sequences of everyone except him - as Alexandre Núñez, had survived,
though only by betraying those he fought beside
. After all, weren't they all paid warriors whose services were available to the highest bidder? Weren't mercenaries allowed to choose which side they wanted to fight for, according to who could offer the most compensation? And wasn't the poor attempt of these locals desperate from the beginning?
How could they think they could really win
? So, the man had just acted in his best interest, of course…
As he moved away, ready to go back to his hotel, his left arm was showily raised to the sky, as if he was finally taking leave of his dead fellows below who once had been his '
Brother in Arms'
…
The End
__________
Is Bigger Really Better
It's the year 2030 and ten yeas since the Las Almoson super collider went berserk, the biggest one in the world and built in Kansas. The collider went super-wide open when fully-charged up and out of control. It changed half the world into a four-or-five-dimensional reality, if that's what this new realm is. Nobody knew for sure, but the remaining world as was known slipped back into almost the dark ages. Europe was no more and most of Russia and Asia were gone----- into the new realm that the accident caused.
What exists in this new realm can't be measured or even seen clearly, but something exists there. Is it God? Is it the God particle? Is it Satan?
Professor Standly felt the cool breeze rush over his collar as he held on to his staff atop the hill overlooking the border that separates the new reality from the old. Today the sounds that emitted from the new realm sounded like chugs or thugs, and the visual appearance? Are they buildings clustered together? Or reflections of the past that are no more and never will be again, or are they just allusions being projected out beyond the limits of this new and undefinable reality. Whatever is there can't be changed by him or anybody else that has remained alive in the old realm!
It was a very crude method that Professor Standly used to determine whether the new reality was gaining ground into the old or remaining fixed at its present location. He had very little to work with now. The city he once lived in gone. His university engulfed into the new realm. No electricity yet, and the search for food took up much of everybody's time, but the survivors of the new world were slowly organizing and for once all worked together in harmony. Professor Standly's lived within a settlement of old trailers and motor homes. Mail service had just been re-established and commerce started. Things were looking better.
Chester, his pet eagle trained by him and his small band of survivors over the last few years, tested the boundaries of the new realm once a week. Chester would fly toward this new reality, and once he sensed it, he would return to Professors Standly's arm immediately. Professor Standly timed Chester's flight, and the time interval gave Professor Standly a good estimate. The time interval never varied more than a few seconds over the last two years, but today it took Chester over two minutes longer then usual.
Professor Standly checked his figures again and again and he finally concluded that the boundary of the new realm had ebbed back by more than a mile. The new realm was shrinking.
"
Collins
!" Professor Standly screamed.
Collins came running up to Professor Standly. "
Give me you binoculars
," Professor Standly said.
Collins stood like a tree beside the Professor, grinning and waiting for the Professor to say something. When the Professor did speak he screamed: "There's a town down there. With horses and wagons. And a train with an old steam engine pulling it. We have to get down there and investigate!"
Professor Standly pointed back toward the settlement. He motioned to Chester, and Chester took off flying toward Professor Standly's target. "He'll go back to the settlement now and rest atop the oak tree."
Professor Standly and Collins slipped down the embankment and made their way over to the railroad tracks. Once there they followed the tracks the short distance to the town, and the sun felt good on their backs and the railroad ties looked new—as if the railway bed were just made.
They entered town, looked around and slowly walked down what appeared as main street, but the street was dirt with no sight of concrete or macadam anywhere. The sidewalks wooden; what surprised both were the horses tied to hitching posts and the men in this town were wearing gun belts!
"It's just old shacks," Collins said. "Look at this place! We have more things----what the hell? What are those two doing"
Two men were walking down main street. It was high noon. Everybody stood still on the sidewalks and watched. They glared at each other. Seconds turned in hours it seem as the two stood motionless but attentive to the other's every move.
Bang! One of the guys fell over dead, and the other one genuflected to all that were watching on the sidewalks. He finally said, "Drinks are on me fellows!"
"A-Are they making movies again?"Collins said.
Professor Standly didn't answer. He started walking again, looking at everything that he passed. Two guy laughing together grabbed the dead man and dragged him off the street. One could be heard saying, "We'll leave him beside the store in the alley. They'll find him."
Professor Standly stopped. He looked up at a banner proclaiming the beginning of a festival that is in it's first years. Collins also stopped and stared wide-eyes at the banner, and quickly looked at the Professor and then back to the banner.
"I argued and argued! Every country decided to build a super collider! A Bigger one then the other's built. Bigger and bigger and bigger like they were copying the biggest roller coaster race!
We got a bigger one--- no we now have a bigger–not for long cause we are building a much bigger one! Well, the biggest one did it! And here's the result of their ignorance! Just look! See how experiments can bring unknown results!" Professor Standly said.
The banner flapped in the light breeze but the event that it announced could easily be read. Professor Standly said, "Well, Collins would you read it out loud? Yes? No? Okay I will----Dodge City's first community festival. 1871!"
The End
__________
A Man of Science
The magician stood head and shoulders above the crowd as he walked through the throngs of people in the small village. Men and women in their thirties could tell the thin figure was elderly by how he towered over them: old people were tall and young people were short. This upside down fact was a reflection of the hard times that had befallen the planet since scientists had brought on the current ice-age almost a century ago. There was only enough food to barely keep alive the small population left. So the reward of 10 bags of tubers seemed like a fortune: and all a person had to do to claim the prize was make the crystal river sing again.
The magician carried a falcon on his left shoulder whose face was hidden under a small leather mask. Having a bird that size travelling with you was usually enough of an oddity to bring a good meal in any ale house, as birds had also fallen victim to the harsh weather conditions since the ice age began, becoming basically extinct. Scientists had brought on the freezing weather by fragmenting the moon, supposedly to quickly cool the surface of the Earth and slow down Global Warming, but the effects of decision could be seen on the faces of the starving crowd that the magician moved through now. People hated scientists – with good reason.
The tall stranger added his name to the roster at the base of the hill overlooking the crystal river. He watched others climb the hill and say ancient magic words, barely remembered words like, "democrat, socialist, republican, neo-nazi, baptist, catholic" - all words that had no real meaning now except as echoes from a happier time. No one, however, could make the crystal river below them sing, no matter how hard they tried.
When the tall magician's turn came to try his luck, he used a walking stick to push his old body up to the tree standing at the top of the hill. For a moment he looked over the beautiful crystal field below him: hundreds of see-through mathematical forms, shot up from the base of the cliff, some as tall as 40 feet. Once long ago, they had produced wonderful clear tones that floated over the village beside it and drew in audiences from across the globe. But the river had fallen silent two generations ago. Beauty and mystery had left the world, forever it seemed – hence the huge reward to anyone who could bring it back.
The magician raised his arms, startling the huge falcon that flapped its wings, slowly lifting into the air, flying across the crystals in front of the man. "Gross national product," he shouted. "All shipment prices are based on destination."
Then the long dead music of the crystal river started slowly at first, as one tone sounded which triggered another and another. Within thirty seconds sound filled the air that was similar to the ringing of an army of magnificent crystal bells. Even the falcon appeared to enjoy the music as it flew south for a moment and then north then south again…before eventually finding its way back to the tree behind its owner.
When the cheering had died down and the magician had descended the hill into the crowd's loving embrace, he had five of the bags of potatoes loaded into his cart – giving the other five to the crowd. Later, as he was ready to close his eyes for the night, lying alone on his cot, the magician saw a shadow pass across his tent, blurring out the light from the campfires outside.
"May I come in?" whispered a voice softly.
"I was just getting ready to sleep," he answered back quietly.
"I will only take a moment of your time," came the soft voice a second time.
He put his feet on the ground, sitting up. "Enter."
The figure pulled a stepstool from a corner of the tent, before pushing back the hood of the cape she wore. "I enjoyed your music today…" the woman began. "But I don't believe it was magic."
The old man's eyes widened a little with interest. "You heard my words that brought the crystals to life. I shouted and the river of gems began to sing."
"Tell me if I'm wrong but I believe your spells were just a ruse. I believe the wings of the huge bird you carry with you pushed enough air downwards that it started a chain reaction inside the crystals, allowing them to vibrate and produce the music."
The magician was obviously shocked beyond being able to speak, but he was also pleased at the maiden's insights. "What do they call you, my dear?"
"Elem," she answered. "I was named after my mother."
The man nodded with affirmation. "I once knew a woman named Elem who lived in these parts." He looked at her in the dimness of the tent and smiled. "You must not use terms like vibration and chain reaction my dear. People will accuse you of being a scientist, which is most dangerous during these perilous times."
"It doesn't matter what they call me, I can no longer stand the smallness of the minds that surround me. Allow me to travel with you. You have five bags of potatoes –I know how to cook potatoes a dozen different ways."
"And when the potatoes are gone, Elem? – what then?"
"The potatoes need never be gone. We can farm them together, heating the tent, growing them in boxes. I will prove my worth given the chance. And we can talk about the world, and what makes things tick. We can reason together, where no others can hear us."
The old scientist smiled to himself, secure in the knowledge that he would finally have someone to pass his knowledge on to. "You can sleep in that corner of the tent," he told her as they began their journey together.
The End
__________
Fair Trade
Arun watched Windmere climb higher in the sky. The hawk flew away from their tiny, green and brown oasis, disappearing over the field of pale-blue abominations that stretched to the horizon.
A single tear rolled down Arun's wrinkled cheek and onto his old brown coat. Windmere had been a good bird, a good pet.
Perhaps he'll find one last mouse. At least he's free.
Arun would never be free. The Crystals would never let them go, never let him escape their noise in the woods. There were no more woods.
He felt the Crystals' hypnotic, bass drone more than he heard it anymore in the hardening earth under his worn boots. It was a steady hum, carried on the wind and pulsed through the very ground. It was everywhere, and it never stopped.
"Why do you call to me?" he asked a pillar building from the torn ground near him.
They never answer.
He tapped the pillar with his staff. It crumbled to dust. Almost immediately, the tip of a new Crystal emerged from the remains. In a day, it would be a foot tall. Some reached over thirty feet high.
Carola's voice behind him cut through the hum. "It's me they call to. They come for me."
He looked back at her, standing tall above him. "I fear it will be worse than before."
"My branch will fall. I will die."
That's the way of magic. Give and take.
He shook the thought from his head.
Carola asked, pensive, "Can't you make them be quiet?"
"I could no more silence them than I could you, my dear."
"Where did they come from?"
He sat down upon the ground and leaned back against her trunk. "You've asked me that a thousand times and I still do not know the answer. When the long light appeared below the moon, the Crystal spores grew thick in the air, and they have spawned ruin ever since."
"Will the rest of the Seven come to help?"
"No."
They're all gone.
***
He remembered her youth.
"Why do you tend to me?" Carola asked. She was a mere sapling then.
Arun's eleven year-old self smiled as he pulled weeds nearby. "I'm apprenticed to become one of the Seven Guardians."
"Mother said you planted me here."
"Yes."
"Why?"
"When I first held your seed and heard your voice inside it, I knew that I would love you. I planted you at the edge of the woods so I could always see you."
She paused, considering. "Then I will give you my first limb. You will need its magic to protect the whole woods, not me alone."
Arun gasped. "Seeds only come from the first limb. You will be barren."
"You will not become one of the Seven without its magic. They do not have children, so we will be the same."
At the time, he thought it was a fair trade.
***
The last leaf on Carola's last branch was speckled with tiny Crystals. It was almost time.
Arun's eyes scanned the circle of pillars around them as they slowly pressed in. The rough grooves in his staff dug deep into his hands. The moon was almost in alignment. He could feel the power building.
Carola was hesitant. "Do you wish you had a child?"
"You ask me this now?" He paused. "At times. Do you?"
"I do."
A broken cry from directly above pulled him from his thoughts. He looked up to see Windmere tumbling from the sky. Arun dropped his staff and clumsily caught his long-faithful companion, himself falling to his knees.
Cradling the hawk like an infant in his arms, Arun saw Windmere's face was crusted with Crystals, his eyes barely able to open. Tiny blue shards shone from between his feathers. His talons were thickly covered, useless.
The bird fought for breath.
"Oh, Windmere." Arun's voice choked in his throat.
Windmere's head rubbed in affection against Arun's shoulder. His pet let out one last lungful of air, more a sigh than a gasp, and died in Arun's hands.
Arun's trembling hands set his friend upon the hardened ground. Immediately, Crystals began to sprout up around him.
"No!" Rage like Arun had never known welled inside him. He seized his staff and light so bright it burned his eyes blazed out of it. He rose, and with every ounce of magic, every bit of fury, and all the emptiness inside himself, he cast the spell.
"Be gone!"
He struck the butt of his brilliant staff against the Crystal-covered ground at his feet. A thunderous blast of light billowed out from it. As the brightness struck the Crystals, they burst. The white-hot magic radiated outward, turning them to dust for a much further distance than before. Arun could not even see them anymore.
He leaned on his staff, gasping from the effort, his ears ringing.
With a terrible crack, Carola's last branch fell at his feet. Her trunk was now bare, save the scars from where he had beaten back the Crystals before. Each time a limb lost, until she had no more.
He wept. All her pain was his doing.
***
Arun used his staff to scratch out a grave. In it, he placed Windmere and Carola's last branch. Abruptly, he snapped his staff in two over his knee and dropped both halves in the hole.
"No more magic. The Seven are gone."
His tears tumbled as he pressed dirt on their grave. "If the Crystals return again, let them take me. I have no one left to live for."
Finally, he sat beside the simple mound of dirt, spent.
Alone.
The mound moved, just a little.
From it, a twig arose, and from that, a single leaf sprouted. The bark was the color of Windmere and the leaf a brilliant green.
A voice called out like when Carola was young. "Father?"
Arun gasped. "Are you Carola's child?"
"I am, and more."
He rejoiced.
Magic was give and take.
Arun named her Hope.
The End
__________
Oooh Look Shiny!
"What is it?"
Chauncy shook out his feathers and picked at something under his wing. His claws tightened to maintain his balance on Rick's shoulder while he did so. It may have even hurt despite the padded shoulder of the tweed jacket he wore. Chauncy didn't care he was a bit overly familiar for a familiar.
The man, a first class wizard in retirement, looked out at the giant crystal spires. He shook his head in a way that was not so unlike his bird companion's earlier display, just slower and more resigned.
"You found this when?"
"Yesterday master. It seemed strange but I didn't think much of it."
"A quarter of a square mile of giant crystal shafts appear in the middle of my woods suddenly and you don't think much of it?"
"Not really. Then I realized it was scaring away some of the rodents and other vermin. I have to eat so I figured maybe you could do something about it."
"I should turn you into a chicken you know."
"Bah. You need me. If I didn't fly patrols and such you would have to come out of that hut and interact with the world. You don't want to take your nose out of those books long enough to do that. It would be all right if they were mystic tomes but..."
"I like romance novels ok? So sue me."
"So tell me great wizard what is this thing?"
Rick smirked at the bird. Then he turned and smirked at the structure.
"You won't believe me."
"Try me, slim."
"Well," he drew it out a disproportionately long time, "it's shite."
"Poop?"
"Yup, fairy poop to be exact."
The bird leaped off his shoulder and into the air. Several minutes went by as the hawk soared around the jagged crystal peaks. He perched on top of one of the highest and pecked at it. Accomplishing something he leapt off and soared down coming to rest on the shoulder patch perch once more.
"HEBER. TABK IT." The bird waited while Rick placed his hand under his full beak.
"Umm. Thanks, but why would you get me a piece after I told you it was shite?"
"So your telling me a two or three hundred foot fairy, weighing Odin only knows what, came romping through these woods and took a giant, jagged, crystalline crap. Neither of us knew any better, not me out patrolling or you with your wards?"
"Don't be ridiculous. I didn't say it was one fairy's crap; I just said it was fairy crap."
"Huh?" When a hawk looks at you impatiently then you truly understand an impatient look, till then you have no idea.
"Lots of them go. They go on top of the other guys and then so on and so on. It is like coral. How did you think fairy quartz got made?"
"I dunno. Never cared. By the way coral?"
Rick thought for a moment. Of course a hawk who was born and raised then made a familiar in Vermont would have no concept of coral. He concentrated on the idea of coral putting all he knew of it as quickly and succinctly into his projection as possible. Then he launched it into Chauncy's mind.
"There."
"Huh, who woulda thunk so many things like to build with doo-doo and skeletons. This world is so weird once you are sentient. Sometimes I wish I could just be a bird again."
"You don't mean that."
"Nah you're right. Too much fun doing it this way. So then these fairies are little things?"
"Yes. But…"
"Tasty perhaps?"
"Yes, but…"
Just then an audible buzz began and quickly grew in volume second by second.
"OH, OH. Is that them? Dinner time."
"Has it not occurred to you how many fairies each taking a crap that weighs less than an eighth of a gram it would take to make that?" He flung his hand out dramatically at the crystal spires.
The buzzing grew so loud that they could have barely heard each other if there communication wasn't partially psychic.
"So there is a lot of dinner?"
"You buffoon. We need to run, we are dinner."
Rick turned on his heel and shot off back in the direction of his warded hut. His legs pumped as fast as he could get them to go. Chauncy had took off the minute Rick turned to run. Apparently the wizard's word was good enough for him to go on as well. The bird had a significant lead on the man in their dash back to the hut. The buzzing got significantly louder. Rick never turned to look, but Chauncy landed on his perch by the door long before his master arrived. His keen avian eyes saw the swarm closing in on the man. There were thousands, possibly more of them in the swarm. They would have been cute if it wasn't for the sharp and seemingly randomly placed teeth in their mouths. Chauncy still would have eaten some if they appeared in lesser numbers. What made him feel nauseous, which he would tell almost anyone never happened to a raptor, was the eyes. Each little bastard had glowing red eyes, just glancing at them you could see the hunger and hate radiating out.
"Rick, run faster please. I need you to open this door. Will the hut hold out?"
The fat middle aged wizard huffed up to the door and threw it open. It was very timely too because the little monsters were close enough that their wings beat could be felt as it changed the breeze. Rick ran inside and Chauncy flew in after him. The door slammed shut behind them and the wizard gestured activating the wards. A boom sounded as the swarm hit the wards.
"That Chauncy is why everything odd in the woods is worth mentioning. Have we learned anything today?"
"Yeah. It is the little shite that you should pay attention to, it builds up."
"Buffoon."
The End
__________
Demons Who Sing and Dance
United States Government, Pentagon Ready Room: September 2017
General Alexander Betrayor, a burley, dark haired man, entered the National Security Council ready room for a meeting with United States Intel Director Sherman Huffstetler, to discuss the Russians accidental incursion into trans-dimensional travel and its rapidly unfolding consequences. Director Huffstetler was a quiet man, wearing black-rimmed glasses and a pencil pouch in his shirt pocket. He studied people and often kept his opinions to himself...but not today.
"Director Huffstetler, let me have the Russian to English translation of Project Armageddon."
"It's not conclusive General. No one has demonstrated a device that allows humans to travel faster-than-light through different realities."
"And yet, Russian scientist Dr. Sergei Ivanov (Sir-GAY, Ee-vah-NAWF) has done so," General Betrayor said looking at the document and then back to Huffstetler. "When Dr. Ivanov raised up into a particle stream while checking for a dysfunctional part of the accelerator equipment, his body came into the path of a high-energy proton beam moving at the speed of light. Before he phased out of our existence, he reported seeing a light brighter than a thousand suns and yet felt no pain."
"Damn Russians, better technological advances for killing dissidents." The Director of Intel saw everyone as enemies.
Huffstetler continued, "For example, the Russians Molecular Destroyer weapon kills large groups of people by extracting water vapor from the surrounding air, freezes it, and fires ice projectiles inflicting mass causalities. In addition, it fires a stream of super cooled air at close range. Anyone hit by this is briefly incapacitated, but if the victim is hit by any standard weapon fire during this period of vulnerability, that person will shatter."
A woman dressed in a business suit wearing a string of pearls about her neck, walked into the room setting a stack of papers on the table as she sits down and orders the two men to take their seats.
"Okay, how much time do we have?"
"Madam President, we don't know," the general said replying.
"Well, how do we plan on getting him out of there?" she asked showing impatience. "If I understand this correctly from my briefing this morning, the Russian scientist is now an integral part of the dimension he is presently in."
"Yes mam," both gentlemen answered.
The President cleared her throat, "And you're saying now that this scientist incursion into this spiritual dimension, is causing all other parallel dimensions to collapse in on themselves, eventually destroying life in all other dimensional realities. If that is correct, then we need to get him out of there."
"We can recreate the dimensional incursion sending someone else in to retrieve him," Huffstetler said looking at her intently.
The president was not feeling confident where this was going. "Lets get the National Security Council and my cabinet in on this. We'll meet in twelve hours at the particle accelerator facility in area forty-nine. We can't waste time. Find a chipped subject and program him on what he is to do...that's if he makes it to the other dimension alive."
Particle Accelerator Facility: Area Forty-Nine
Scientist Dr. Mikhail Dmitriyev (Mihk-eye-EEL, Dih-MEE-tree-yehf) walked into the control room and sat behind the console. There was a panel of scientific experts and politicians ready to witness the attempt of the incursion into the unknown parallel universe where the Russian scientist was lost.
Speaking with a heavy Russian accent, Dr. Dmitriyev addressed the people in the room. "The scientist who traveled to another dimensional universe became a part of that reality without a way of escape. What we are about to do is open a quantum vortex and transport our intelligence agent to the precise coordinates where the Russian scientist was relocated by the particle accelerator stream and then retrieve him. When they are back in our dimension, we will seal the rift and heal the incursion."
Director Huffstetler adds, "We have implanted a communication device into our agent, so we can continue to program him in the other reality."
As the particle accelerator increased to light speed, Dr. Dmitriyev began setting the coordinates for the quantum jump.
A vortex began opening and within seconds, it pulled the agent in.
Land of Shadows and Dreams Faintly Remembered
The agent stood in the alternate dimension, communicating with Director Huffstetler on what he observed. "I see tall crystalline buildings fading out of existence, appearing no longer habitable by creatures of flesh. The stars and the silhouette crescent moon are fading as well. The landscape is barren, except for a semblance of a realm that had once flourished.
The trees look desolate, appearing barren and cold. I see a lone man, a talisman standing in the wintry dusk amidst dark, devilish spirits swirling about, who are taking the shape of large black birds and then fluttering away to possess more human shells by seduction and fantasy. I don't know how I know these things, I suppose it's intuitive knowledge."
Dr. Dmitriyev said urgently to the agent, "Grab hold of the talisman and see if he is our comrade scientist. If not, ask him if he has knowledge of him."
The agent walked over to the man and placed his hand on his shoulder. When the talisman beast turned around, he tore open the agent's chest and began drinking his blood. The agent became a human sacrifice to stay the portal. Without warning, millions of grotesque spirits flooded through the dimensional vortex entering Earth's realm and into the bodies of the president, the politicians and scientists in the room, possessing and controlling them. They will own this reality, 'our reality' and this fantasy we call life.
The war for the minds of humanity in every reality is in its eleventh hour of consummation…and hell will follow.
The End