DreamQuest
A Review of Bill Pottle's new Fantasy Novel
Review by Dan L. Hollifield
---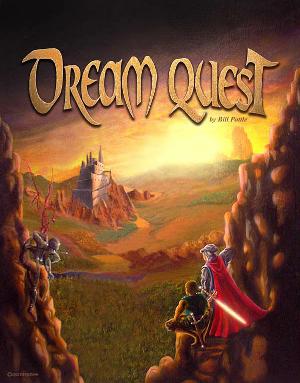 Type of music/work:
Fantasy Novel


ISBN: 0-595-26804-8
Price: $16.95

Musicians/Performers/Author(s):
Original Novel by Bill Pottle
Cover Art by Charles DeGuzman
The DreamQuest website


General impressions of the novel:


I loved reading this book- I hated any reason I had to put it down. Marvelous adventure! Bill Pottle has created a wonderful new world for this novel. I'm glad to see that there will be more stories in this series. One book just isn't enough! Specifics:

"DreamQuest" is a very good name for this novel. There is a certain dream-like quality that flows through the entire book. As if it were a vision being imparted rather than a tale being told. I can't put my finger on exactly how this is achieved, but it is a wonderful effect that adds to the reader's enjoyment.
I thought the characters were quite well written. They were complex and realistic even as the story started, and they changed and grew as the adventure continued. Very nice work. The reader will soon come to care about these characters as if they were old friends. A clear image of each character arose in my mind from within the story, woven together from many scattered segments of descriptive text. A much more subtle effect than the use of large chunks of exposition. After only a few pages, I could see the story unfold before my mind's eye as if were a play or movie. Very vivid writing, highly enjoyable, brought each character to life as I turned the pages.
The different cultures and people that are featured in the story are obviously well thought out. They mesh together believably and function on a real level. If the reader were to be suddenly transported into a Late Middle-Ages fantasy civilization, this is almost exactly what it would be like. The different non-human cultures interacted with the human cultures in a realistic manner, well plotted and well thought out. These are not just snippets of Tolkien with the names changed and the serial numbers filed off, dropped into the text. No, these are seriously developed, original takes on historical mythology, blended with accurate historical cultures. There is a depth to the way the different villages, towns, and cities interact that adds to the backdrop against which the story is told. Everywhere you look is this detailed, vital world.
If the book has a flaw, it would have to be that the characters occasionally slip into a phrase or two of modern-sounding expressions. My reading always came to a full stop whenever I reached one of these few instances. I could never decide if Bill wrote them in purposly or if they just slipped in by accident. In either case, they slowed my reading down and interrupted the flow of the story.

Background info:


I quote here from the Bio on the Dream Quest website:

"Bill Pottle was born and grew up in Denver, Colorado. While living in Colorado, he enjoyed spending time camping and hiking in the Rocky Mountains, and eventually received his Eagle Scout. Climbing above the clouds provided the inspiration for the character of Tivu in the Lands of Daranor series. He began work on his first novel, DreamQuest, in sixth grade, and worked on it sporadically until its publication 12 years later.
He attended Cornell University where he received his bachelors and masters degrees in Biological and Environmental Engineering. His research focused on developing sensors to detect trace amounts of biological pathogens. He also served as the captain and MVP of the Cornell University Taekwondo Team, which he helped to win five consecutive league championships. In 2002 he also served as the captain of the Ivy/Northeast Collegiate Taekwondo All Star Team. In April 2002, he earned his fourth degree black belt. The influence of Taekwondo and other martial arts can be seen in some of the action sequences in his work.
He currently works for the Gene Therapy Program of the University of Pennsylvania where he makes adenovirus as a method of gene transfer and also as a method of producing vaccines against common disease agents.
He has traveled extensively, including visiting every continent except Antarctica and every communist country except North Korea. A large portion of these travels were during the Semester at Sea program, and a non-fiction book about the journey should be published by the end of 2003.
Terry Brooks, Lloyd Alexander and C.S. Lewis were the major authors that influenced his style early on. Lately, Dan Brown, J.K. Rowling, and The Matrix have also had a large influence.
DreamQuest is the first of a planned trilogy, with the other two books to be released in the next 3 years."
---
Review Copyright 2003 by Dan L. Hollifield




Aphelion Letter Column A place for your opinions.

Return to the Aphelion main page.