The Bromeliad Trilogy
A Review of Terry Pratchett's Book of the Nomes series
now released as one volume.
Review by Dan L. Hollifield
---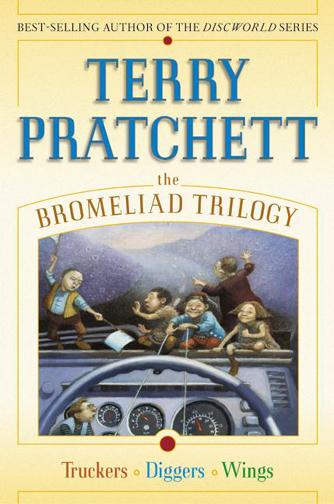 Type of music/work:
Trilogy of Children's and Young Adult's Fantasy Novels as one volume.


ISBN:
Trade: 0-06-009493-1
Library: 0-06-054855-X
Price: $17.99

Musicians/Performers/Author(s):
Original Novels by Terry Pratchett

terrypratchettbooks.com

Published by HarperCollins Publishers

Published by HarperCollins Children's Books

Cover art by S. Saelig Gallagher

General impressions of the book:

A new fairytale for the modern age. One of the most delightful books that I've read in years. Terry Pratchett proves that he can write for readers of all ages with this wonderful adventure of the Nomes. Destined to become a classic- One that I can't wait to read to the kids. Specifics:

This was such a good book that its hard to know where to begin. The words just seemed to come alive as I read the story. It was a feast for my mind's eye; vivid and breathing and almost real enough to walk into. The characters drew me into the story and made me feel like an old friend. Terry writes some wonderful characters anyway, but his work here is exceptionally good. All the Nomes felt like real people- as if they were someone I already knew, just rendered tiny. People are people, it seems, no matter their size. There is humor and danger, drama and irony, adventure and excitement in every nook and cranny of the world between the walls in which the Nomes live. Eventually, one starts to look around one's own house for evidence of tiny people rushing about.
Terry also scores with his descriptions of the Nome world and point of view. There is no trouble visualizing the Nomes living between the walls and floors of the Store, or in the truck, the quarry, or wherever their adventures take them. Terry lets you see the dim lighting, the walkways, the Nomes going about their everyday lives. And the dangers that a person only four inches high has to face from the world. The set dressing was so smoothly written that it seemed come alive without distracting from either the characters or the action. All the interaction between the characters and their over-sized emvironment seemed real and vital. This is the way it would be if one faced the world from about ankle-level. I think the very naturalness of the Nomes fitting themselves into the bigger world contributed greatly to the story being so enjoyable to read. Their view of the bigger world and their own take on civilization seemed as natural as sunshine, with their own culture feeling like a tightly-knit small town or village.
I had so much fun reading this one that I can recommend it very highly to everyone. It is written on several levels at once, so adults will enjoy reading it as much as children will. The Bromeliad Trilogy is a wonderful adventure for people of all ages, and heights. So sit back in the rocking chair, gather the kids, and join the Nomes as they hunt for their true home. And welcome to an adventure that you and the children will want to read again and again.
All in all, I think that this is one of the books that I'm going to be reading to my neice, nephew, and grandson. Terry has written what ought to become a classic children's book- right up there with Pooh, Narnia, Alice, and the Shire. Thank you, Terry! This was a true delight. Background info:

Terry Pratchett has been a published author since 1971 and has more books out now than I can count. The first Discworld novel "The Color of Magic" was published in 1983. There have been over 30 other Discworld novels since then. A non-Discworld book, Good Omens, his 1990 collaboration with Neil Gaiman, has been a long-time best-seller as well. He has also written two science fiction novels and seven for younger readers.
Quoted from terrypratchettbooks.com: 'Regarded as one of the most significant contemporary English-language satirists, Pratchett received the British Fantasy Award for best novel (Pyramids), in 1989, was named an Officer of the British Empire "for services to literature" in the Queen's Birthday Honours of 1998, and received an honorary Doctor of Letters degree from the University of Warwick in 1999. His acclaimed novels have sold more than 28 million copies worldwide and have been translated into 27 languages. Terry Pratchett lives in England with his family, and spends most days at his computer, writing.'
---
Review Copyright 2003 by Dan L. Hollifield




Aphelion Letter Column A place for your opinions.

Return to the Aphelion main page.