The Listening Room
Passing Through
Bill Sutton
Review by Rob Wynne
---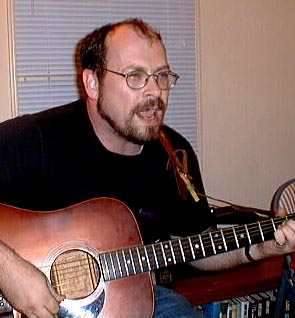 The songwriters that I find myself gravitate towards are most often the storytellers: Harry Chapin, Paul Simon, Al Stewart. Songwriters who are able to not merely convey some emotion or sentiment, but actually capture the essence of a soul and an insight into the daily struggles and triumphs that make up human existence.
Filk music has its share of storytellers; as a genre that is at its heart a musical offshoot of SF literature in the first place, and one that is firmly rooted in folk traditions, this is hardly surprising. It's always a treat when one of these songsmiths comes out with a new album, so I was pleased to finally get my hands on a copy of Bill Sutton's latest CD, Passing Through. (Dodeka Records, 1999, DR-100200) [I should admit that I know Bill pretty well, but I promise that I won't hold that against him as I write this review *grin* +rtw]
The selections on this album highlight Bill's ability to evoke both euphoria and pathos in the stories of everyday heroes. The wistful reflections of a galactic wanderer in "Poet and a Starman". The solitary freighter pilot, lost and adrift with a broken nav computer in "Star Song". The young blacksmith's son ensorcelled by an evil wizard, who seeks to clear his own good name in the eyes of his townspeople in "The Wizard of Macke Town". My own personal favorite is "The Pilot's Eyes", in which a former starship pilot who lost his sight, and thus his usefulness, in a old war finds a chance to save his people once more in a new one. Like many of his best songs, the ending has a special little twist that shifts the song to a new level just as it was winding down.
Other songs presented here find their inspiration in novels. "Stringer" and "Midnight at the Well" were each inspired by Jack Chalker. "Crystal Singer" is based on the series by Anne Mccaffrey, and "Cruiser Dreaming" is also based on a novel (by an author I can't place immediately; the song, however, is superb, with a wonderful arrangement I honestly didn't care for at first, but which has grown on me after repeated listening..)
Most of the songs on this album are not new, having appeared previously on his 1986 Off Centaur album Past Due. But even if you're one of the lucky few who has a copy of that long out-of-print tape, you'll want to pick up this one. Each song has been re-recorded and mastered directly to CD, and Bill has grown quite a bit as a musician over the last decade, so not only is the quality of the recording improved from the original, but also the instrumentation and arrangement of the songs. This isn't a straight re-recording of that old album, though. Some songs were dropped from the list, either because they can already be found more easily on other recordings, such as the sublime "Caretakers", found on Owling at the Moon (Bill and Brenda Sutton, Dodeka Records, 1994, DR-10010), or simply because there was better material available since Past Due was recorded. New songs found here include "Journeys", a philosophical look at the cycle of life, and "Star Dreamer", which has a neat jazzy arrangement that I'd love to hear just as an instrumental.
Unfortunately, there are a few sour notes in this mostly enjoyable album. Bill's signature song, "Stray Dog Man", is dull and flat here, and its lack of energy robs all the humor from what is normally a very funny (and fun) song (I'm convinced the only way this song will ever get justice on a recording is for it to be done live.) I was disappointed also by the general lack of humor on this album. When he sets his mind to it, Bill can be just as funny as he is poignant in his more serious work, but that side of his repertoire is hardly represented here; aside from the aforementioned "Stray Dog Man", which didn't work, and the Dilbert-as-Viking-Raider "9-to-5 Barbarian", which did, there's no real humor to be found on this album, and that's really a shame.
On the whole, however, I found Passing Through a very enjoyable listen, and it is well worth adding to the record collection of any fan of singer/songwriters who really know how to tell a story.
---
You can purchase copies of Bill Sutton's Passing Through from filk dealers such as Random Factors or Southern Fried Filk.

This month's poetry section contains the lyrics to Poet and a Starman, one of the songs found on this album.
---
Review © 1999 Robert T. Wynne. All Rights Reserved.
Photograph © 1999 Robert T. Wynne

Review copy of this album was provided by Bill Sutton. If you are a filk publisher ( or a publisher of material that would be of interest to sf&f fans) and would like to provide Aphelion with copies of releases for review purposes, please contact Rob Wynne for details.
---
Read more by Rob Wynne

Comment on this feature in Aphelion's Lettercol!

Return to the current issue of Aphelion!