Dreams of Steam II
Brass And Bolts
Edited By Kimberly Richardson
Review by Dan L. Hollifield
---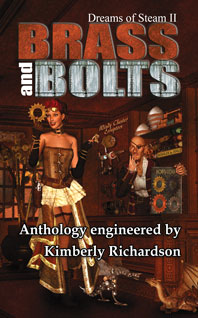 Type of music/work:
Sci-fi / Fantasy / Steampunk Anthology.
Musicians/Performers/Author(s):
Table of Contents:


Of Heroes and Airships - Victor Lorthos - One reporter's unforgettable journey!
Death With A Glint Of Bronze - Sean Taylor - Criminal hands hide dirty secrets.
For The Fear Of Steam - Missa Dixon - Charlie is back with new friends and adventures!
Dreams Of Freedom - Len Berry - Texas honor comes to London!
The Real Magic - H. David Blalock - Sometimes, the real magic comes from within.
The Third Eye - Alexander S. Brown - How far would you go to solve a murder?
In Tesla's Court - Robert Cerio - Twain, Tesla and time travel!
Commander Tesla Versus The Holy Roman Empire - Phillip R. Cox - Nikola Tesla prepares for war!
Protege - Dwayne DeBardelaben - Have you ever been happier in your life?
The Perfect Woman - Kara Ferguson - How far will you go to find that "special" someone?
The Tale Of Lady Helvetica - Christopher Friesen - Murder most foul, but with serious style.
The Locked Door - Allan Gilbreath - Inspector Peele faces another phenomenal mystery!
Great Minds - Jeff Ollen Harris - What would you use to fuel your rocket?
Grass Elephant - M. Keaton - Return to the Dark Continent!
Cicada Summer - Jon Klement - A brave girl faces an alien menace in the old West!
The Big Golden Apple - Cindy MacLeod - One man's folly is truly his reality.
The Automated Man - Alli Martin - Going against the grain can sometimes give ironic results.
Jumping The Rails - Jared Millet - Man vs. Machine . . . or is it?
Chilled Meat - J. L. Mulvihill - Can murder ever be fair play?
Steam Race - Herika R. Raymer - Gas vs. Steam: the race is on!
Winnet's Octavian - Laura H. Smith - A young girl goes far to protect her only friend.
The Devil's Children - Angelia Sparrow and Joy Coop - Family comes first, no matter what.
The Boys In The Boiler Room - David Tabb - Sam Spade, Steampunk style!
Bedeviled - Nick Valentino - Demonic torment for the greater glory of art.
The Island Sojourn - Stephen Zimmer - Harvey the cat solves another case! 

Direct Link To The Book's Page At Kerlak Press


Published by Kerlak Enterprises


ISBN:
Hardcover ISBN 13: 978-1-937035-06-8 $34.95
Trade Paperback ISBN 13: 978-1-937035-07-5 $19.95
eBook eISBN 13: 978-1-937035-08-2 $4.99


Cover design by Darrell Osborn

General impressions of the album/book:


This collection of steampunk stories is a "must have" for any fan of the genre. I'd also recommend this, and the other volumes in the series, as an introduction to anyone just becoming interested in exploring the literary side of steampunk. 25 stories in the collection, and I couldn't find a single clunker! I hated every time I had to put the book down for any reason. Each story is a bright and shiny gem, set in polished brass and copper.

Specifics:


Steampunk isn't an easy style to write within, but every writer in this anthology makes it look easy. The writing flows smoothly, the characters leap from the pages in full, vibrant life, and the stories each explore a different direction of the possibilities held within the domain of steampunk. It is as if Jules Verne, H.G. Wells, Conan Doyle, Mary Shelley, and all their peers sat down to High Tea together one day and decided to write new, fresh stories exploring the full range of Victorian-era science fiction and fantasy. Steampunk fiction goes beyond mere historical retellings and launches itself into adventures to the far reaches of the imagination. These stories absolutely explode with steam-driven adventure, inventions, robots, explorers, mad scientists, and just plain ordinary folks living in a world where our historical Industrial Revolution took a different path.

But it isn't all about the machines and mechanical devices. Each story explores how people within that setting live and breathe and interact in a reality that just happens to contain fantastic old-fashioned technology. The retro-tech sometimes takes a back seat to the characters, sometimes shares the stage as an equal, and sometimes fades into the background like a perfect Butler - Unnoticed until needed. Steampunk fiction can be overpowered by the trappings of its mechanical inventions, but you won't find that in this collection. Each story strikes a balance between characters, their setting, and the set dressing. The different styles of the writers don't clash because each story is so completely self-contained. Reaching the end of one story leaves the reader eager to begin the next. When I finally reached the end of the book I wanted more. I wanted to go see what else each writer has written so that I could dive back into the worlds of their imaginations. I'm glad there are more volumes to come in this series. Dreams of Steam was the first volume, and Dreams of Steam III is already in the works, being assembled from the gears and cogs and clockwork bits these writers use so well. It will be difficult to wait until the next thrilling adventure hits the presses.

Background info on where you can buy this book:


Amazon.com Hardcover
Amazon.com Paperback
Kindle
B&N Hardcover
B&N Paperback
Nook
Apple I-pad

---
Review Copyright 2012 by Dan L. Hollifield




Aphelion Forums A place for your opinions.

Return to the Aphelion main page.